This course will be retired on January 31, 2015. To receive credit you must complete the course, test, and payment before that date.
Learning Objectives
This is a beginning to intermediate level course. After taking this course, mental health professionals will be able to:
Identify abuse in relationships using basic assessment and detection tools and strategies including interview techniques and the Conflict Tactics Scale
Discuss the available community resources such as domestic violence protective orders, women's shelters, and specialized counseling programs for abusers
Explain the relevant cultural issues and differences in the perception of family violence
Describe basic clinical intervention strategies for spousal abuse, including development of an effective victim safety plan and promotion of nonviolent decision-making skills during domestic conflict
Address with the client in counseling the core beliefs and attitudes held by the aggressor
Teach clients to use the author's model – "The Box" – for anger management
This course meets the California Board of Psychology's mandatory Spousal Abuse course requirement. This course, together with Spousal Abuse II: Cognitive Behavioral Treatment, meets the California Board of Behavioral Sciences' mandatory 7 hour Spousal Abuse course requirement.
Introduction
The issue of spousal abuse has always aroused ambivalence and controversy in American society. The ambivalence about spousal abuse, and what to do about it, is evident in court decisions from the 19th century, which show great variance in their perception of domestic violence. In 1824, for example, the Supreme Court of Mississippi ruled that a husband had the traditional right to beat his wife with a rod no thicker than his thumb, and that the law allows a husband to use force "to make the wife behave herself and know her place." The North Carolina Supreme Court ruled in 1868 that, if the husband inflicted no permanent injury on the wife it was better to "leave the parties to forget and forgive."
In sharp contrast, the 1871 decision of the Supreme Court of Alabama stated, "The privilege, ancient though it may be, to beat [one's wife] with a stick, to pull her hair, choke her, spit in her face or kick her about the floor ... is not now acknowledged by our law." In 1881, Delaware courts began sentencing spousal abusers to the whipping post. "It is stiffly contended by Delaware magistrates," wrote an author of the era, "that as a restraint over wife beaters and other cruel and vicious criminals, the whipping post is a distinct success and of marked benefit in its influence in the community (Earle, 1896, p. 84)."
In many ways, spousal abuse is as controversial and emotionally charged an issue in the 21st century as it was in the 19th. More has been asserted about spousal violence than has ever been demonstrated. After thirty years of research, the interested clinician finds little consensus in the spousal abuse literature about basic questions such as, "What are the rates of spousal violence in America?" In nationally representative samples of 8,145 families, Straus (1990) reported that spousal violence occurred in about 16% of the households in the year of the study, and that among those households severe abuse occurred about 3% of the time. However, incidence rates vary widely in the literature, depending upon the population studied and the way researchers operationally define and measure partner violence. Related issues, such as the frequency and severity of female on male violence (Do women get violent too?), the efficacy of court-mandated counseling (Does it work?), and the wisdom of aggressive arrest policies (Do they really lower recidivism?) continue to spark heated polemics among academics and activists. Yet the literature provides little in the way of practical help for the mental health practitioner who wants to help his or her clients put an end to family violence.
This course is a small step toward addressing that problem. As the director of a program dedicated to domestic violence counseling, I have many opportunities to speak to counselors about applied assessment and treatment strategies they can use in their work. Those who attend my seminars expecting a review of the literature on spousal abuse must have been disappointed, as that is not the purpose or focus of my presentations. On the other hand, the response from counselors looking for specific assessment and intervention strategies to apply in their practice has been overwhelmingly positive. While the ongoing research and political debates in the field are vitally important (I fear I have often bored my friends and colleagues to tears with unsolicited dissertations about new developments in the literature, and I apologize for that), this is a course in applied psychology. If you're wondering how to get your clients to stop hitting their partners, this course is for you.
The pages to come present skills and concepts developed over many years of work with men and women who endeavored to stop their abusive behavior and maintain violence-free relationships. It is my hope that you will find them helpful in your work with clients whose relationships have suffered the devastating effects of spousal abuse.
I am happy to respond to questions or comments about the treatment strategies presented in this course. You may contact me here. You may purchase my treatment manual by clicking on The Choices Program: How to Stop Hurting the People Who Love You.
Chapter 1 – Assessment and Detection Strategies
Why assessment and detection are important
The following vignette comes from a police report of a domestic violence incident. Carol was watching television with her boyfriend, Greg, when Carol's cell phone rang. Carol answered it. A soft woman's voice asked, "Is Greg there?" Carol passed the phone to a flustered Greg, who mumbled to the woman on the phone that he would have to call her back and hung up. Carol asked Greg why girls were calling him on her cell phone, and an argument ensued. The argument grew heated, and Carol told Greg to leave her apartment. Greg stood up and towered over Carol. "Bitch," shouted Greg, "say something so I can hit you!" When Carol told Greg to leave, he punched Carol in the face with his fist and stormed out of the apartment. When Greg arrived home, he called Carol and left a series of angry messages on her answering machine.
Eventually, Carol called the police and reported the incident. In a victim statement given to investigators, Carol said that she felt that Greg was wrong for what he did, but also told investigators what really bothered her about Greg's behavior. "It was OK when he hit me," Carol said, "but leaving the messages was what did it."
The point I want to make is this: a counselor must see domestic violence as a serious issue, because your clients often will not. In my practice, clients experiencing spousal abuse rarely identify it as the problem that initially brought them to counseling, even when partner violence has reached high levels of frequency and severity. Clients typically see spousal abuse as a relatively unimportant problem - a side issue of poor communication, substance abuse, depression, or stress. Counselors sometimes unwittingly collude with their client's perception that abusive behavior is unworthy of inclusion in the treatment plan by failing to assess for it.
Both counselors and their clients use the intake interview to get information. Counselors ask questions to get information about what matters to his or her clients. Clients listen to the questions asked to get information about what matters to the counselor. For example, responsible clinicians routinely assess for suicidal ideation and substance abuse. By proactively asking about these issues, we not only obtain information relevant to the care of our clients. We also reveal to our clients that we perceive these problems as important treatment issues. While it may not be our intent to do so, failure to take the time to ask about spousal abuse may convey to our clients that it's not important to us, and that it's not relevant to their care. The old saying, "If you want to know what matters to people, watch how they spend their time," applies to the intake interview. Clients watch how we spend our time in a session, and which issues seem to matter to us.
In an even worse scenario, the victim of abuse may be justifiably concerned about violent retaliation from the partner after the session, and afraid to volunteer information to the counselor about past assaults. The clinician who fails to assess for spousal abuse, yet pushes clients to be open and honest during counseling sessions, unwittingly places clients who are victims of abuse in an untenable position and exposes them to the danger of further assaults. After all, the relative safety of the clinician's office ends when the session is over.
To illustrate my point, let me introduce you to Mary and Jim. At the intake interview, Jim was friendly, confident, and talkative. Mary was visibly anxious, said nothing unless spoken to, and avoided eye contact. The imbalance in power between Mary and Jim was obvious. When I asked to speak to Mary alone, her anxiety rose so quickly that I feared she would have a panic attack. After assuring both Mary and Jim that this was my standard intake protocol, Mary reluctantly agreed to talk with me privately.
Once in my private office, Mary's eyes darted from the door to the windows and back to the door. At her request I locked the door, assured her that her husband couldn't see through the windows, and that she was safe. In her anxiety, Mary started to stutter to the point that she couldn't speak and her hands shook visibly. In time, Mary calmed down enough to tell me that Jim beat her every day. She had once called the police, but he beat her severely the day he returned from jail, and threatened to kill her two children, who were from a prior marriage, if she ever called the police again. He also assured her that he would find her and kill her if she tried to leave him. Mary had no family in the area and felt trapped. I asked Mary to talk with a representative of a woman's shelter on my office phone, but she refused, fearing that Jim would find out. I asked her to take a list of community resources for victims of spousal abuse, but she refused, saying that Jim was sure to search her on the way home. Mary finally accepted the list of resources, but folded the page into a small square and hid it inside her clothing, much as a prisoner might hide contraband from a brutal guard. Never have I seen a woman so terrorized by her husband as Mary was of Jim.
As it turned out, Mary was a success story. She is living happily with her children in another state, free of Jim's threats and brutality. Suppose I had completed the intake interview without raising the question of spousal abuse, or inquired about it in a way that Mary could not answer honestly. What might have happened to her and her children had I pushed her to reveal thoughts and feelings that angered Jim? People like Jim and Mary walk into counselors' offices every day. We may never know the number of clients exposed to violence by counselors who fail to evaluate the risk of spousal abuse. I'm sure, however, that the number can be reduced through skillful and thoughtful assessment. The following bullet points will provide you with suggestions to organize the assessment procedure.
Primary considerations in assessment and detection
Assessment and detection starts by evaluating your own attitudes about spousal abuse. Do you think partner abuse should be a primary treatment issue? How highly do you place it in your treatment plan? Your attitude will affect they way your clients perceive the problem, and influence their willingness to disclose or talk about the issue.
Observe the balance of power between the partners. Does one partner seem to dominate the other? Is one partner able to intimidate the other through looks, gestures, or body language? Do both partners express themselves to you freely and in a relaxed manner? If not, consider taking time to speak with each partner individually and assess the situation further. Don't jump to conclusions: an imbalance in power is not necessarily indicative of spousal abuse. Further investigation, however, is justified and recommended.
Due to the time constraints of this course, the emphasis is necessarily on physical abuse. I'm sure you know, however, that spousal abuse comes in other forms: verbal, sexual, economic, and emotional. Be alert and mindful of these abusive behaviors as well as physical abuse. The concepts and strategies discussed here will be helpful in addressing these forms of abuse as well.
When clients disclose abusive behavior, evaluate the frequency and severity of the behavior. Is the abuse limited to verbal threats, or is the victim experiencing physical assaults? Are assaults increasing in frequency and severity? If so, how does that information affect your treatment plan? The Conflict Tactics Scale (Straus & Gelles, 1999) can be helpful in your assessment. The Conflict Tactics Scale (CTS) has a good Coefficient of Reliability in research settings (alpha for couples = .88), and provides the counselor with a structured way to evaluate the frequency and severity of spousal abuse. The individual items that comprise the CTS follow. Ask clients how often each item has occurred in their relationship. I've found the CTS so useful that I include it in my intake packet for all of my clients.



Conflict Tactics Scale Items (Straus & Gelles, 1999):

Discussed an issue calmly
Got information to back up your/his/her side of things
Brought in, or tried to bring in, someone to help settle things
Insulted or swore at him/her/you
Sulked or refused to talk about an issue
Stomped out of the room or house or yard
Cried
Did or said something to spite him/her/you
Threatened to hit or throw something at him/her/you
Threw or smashed or hit or kicked something
Threw something at him/her/you
Pushed, grabbed, or shoved him/her/you
Slapped him/her/you
Kicked, bit, or hit him/her/you with a fist
Hit or tried to hit him/her/you with something
Beat him/her/you up
Choked him/her/you
Threatened him/her/you with a knife or gun
Used a knife or fired a gun
When clinicians detect suicidal ideation among clients, they routinely evaluate lethality and risk factors (the presence of a plan, means, prior attempts, etc.). In the same way, take the time to evaluate potential lethality and risk factors once you detect spousal abuse. To help you with this, I've presented below the lethality/risk factors proposed by the Los Angeles County Probation Department Specialized Domestic Violence Monitoring Unit. Some of the items are obvious risk factors, while others are less so. Use common sense and sound clinical judgment in evaluating risk factors, and be aware of the possibility of false positives. On the other hand, while the presence of one or more risk factors does not always mean that the victim is in imminent danger of potentially lethal assaults, you should be aware of the possibility and take common sense steps to enhance victim safety. For example, the development of a victim safety plan, written behavioral contracts, and inclusion of community resources in the treatment plan may be appropriate.



Potential Lethality/Risk Factors:

Attempt/threat/plan of homicide or suicide
Homicidal or suicidal ideation
Alcohol/substance abuse
Depression
Prior threats or use of a knife or gun
Obsessions about the partner
History of rage
Pet abuse
Stranger (generalized) violence
Antisocial traits
Violence against multiple partners
Increasing cycle of violence
Social isolation of the victim
Lack of remorse for past abuse
Violence in the family of origin
Sexual abuse/ rape of spouse
Severe injuries inflicted on victim in previous assaults
Access to victim

(Based on my clinical experience, to this list I would add the presence of child custody issues. In every domestic homicide in which my clients have been involved (fortunately, there have been few), the partners were engaged in a vicious custody battle.
Avoid passive collusion with the aggressor. By passive collusion, I mean failing to confront abusive behaviors or blaming the victim. This is not a time to be nonjudgmental. At a minimum, make your own values about spousal abuse clear to your clients and adopt a directive approach to the issue. Be supportive of both partners, but make it clear that you are supporting them in their efforts to make meaningful changes, not to maintain the status quo. Confront minimizing, blame, or denial when you hear it. Consider making the cessation of partner violence a condition of treatment, or the use of written behavioral contracts that prohibit future assaults, much as you would use written no-suicide contracts. While such measures may have limited effect, they may enhance the safety of family members. (When children are the object of violence, the obligation to report is clear.)
Victim safety should be the first consideration in any treatment plan involving spousal abuse. Review the frequency, severity, and potential risk factors in the case, and consider the need for a victim safety plan. The basic components of a safety plan are:



A Basic Victim Safety Plan:

Keep some money on you for an emergency.
Keep emergency numbers in a place you can get to them quickly.
If possible, obtain a cell phone and keep it with you.
Keep an extra set of car keys on you.
Confer with a friend, family member, or counselor about how to handle an emergency call from you for help. Create a code word to use when you need someone to call police for emergency assistance.
Consider obtaining a domestic violence protective order.
Keep a change of clothes for you and the children in the car.
Decide ahead of time at what point you should leave or call 911. If possible, discuss the issue with your counselor.
Memorize the National Domestic Violence Hotline (800) 799-SAFE, or the numbers of other agencies in your community that can provide you with a list of community resources.
If possible, have all firearms removed from the home.
Community Resources
Educate yourself about community resources for spousal abuse, and incorporate them into your treatment plan as appropriate. Most communities have resources available for your clients. The following are potential adjuncts to treatment:
a) Educate the victim about his or her legal rights, and inform the aggressor about potential legal and economic consequences should the criminal justice system become involved. Whatever your feelings are on the issue, since the early 1980's, the criminal justice system has become more directly involved with the problem of spousal abuse in communities across the nation. The criminalization of domestic violence, mandatory arrest policies that leave little discretion to the victim or the police in the matter of arrest, legislation requiring physicians to report domestic abuse to the police, and aggressive enforcement of protective orders are examples of the active role of the criminal justice system in matters of spousal abuse.

b) Educate the victim about the pros and cons of domestic violence protective orders, and provide information about how to obtain one in your state.

c) Consider the use of protective shelters. Most communities have domestic violence shelters that can provide victims of spousal abuse and their children a safe haven and specialized counseling that may be appropriate for your client.

d) Remember that specialized counseling programs for the aggressors are becoming more available in communities across the nation.

e) Inform yourself and your clients about specific resources in your community by contacting local shelters or calling agencies such as the National Domestic Violence Hotline (800) 799-SAFE, or the numbers of other agencies in your community.
Cultural issues
Be aware of cultural influences that may affect the client's willingness to acknowledge abuse behavior in the relationship, or even consider it an issue worthy of treatment. Faced with culture-specific issues, a wise counselor will look for training and guidance from professionals and community leaders familiar with the client's primary culture. Far from an exhaustive list, the items below will familiarize you with some of the cultural issues that may be a factor in the treatment of spousal abuse:
a) Male privilege and gender roles: male privilege is the idea that men are inherently superior to women, and what a man decides, wants, needs, and believes is more important than what a woman decides, wants, needs, or believes. I assure you, one doesn't have to travel outside of this country to find examples of male privilege (bear in mind some of the court decisions mentioned in the introduction to this course). However, male privilege is more pronounced in some cultures than in others. Such clients may perceive the counselor's efforts to stop partner violence as an intrusion into a man's "right" to absolute control of the family unit. (When faced with this problem, I've found it helpful to talk about stopping the violence as an essential adjustment to American culture that is necessary for survival in this country.)

b) Guilt due to a betrayal of trust: The notion of an "all sacrificing wife and mother" is very strong in some cultures. The victim may feel a duty to sacrifice any insult or indignity rather than expose the husband (and indirectly the family) to ridicule. The desire for help and assistance is in conflict with the need to avoid bringing shame to the family.

c) Geographical isolation: Immigrants, especially first generation immigrants, may find themselves isolated from the support and counsel of family and friends that were left behind. Due to geographical isolation and financial constraints, the victim may in effect be trapped in the home, as there is nowhere to turn.

d) Lack of knowledge: Victims and aggressors alike may lack knowledge about legal rights, potential criminal consequences, and community resources for spousal abuse.

e) Language barriers: Even when knowledgeable about the issues above, a language barrier may prevent the victim from seeking assistance that is available in the community.

f) Fear of deportation: In some jurisdictions, criminal conviction for an act of spousal abuse carries with it a very real possibility of deportation. Fear of deportation may dissuade many from using what protection from assault the criminal justice system can offer, or even acknowledging the problem to mental health or medical professionals.
Abuse in same gender relationships
Spousal abuse is a human phenomenon. It is not a peculiar characteristic of one ethnic, socioeconomic, or educational group, nor is spousal abuse idiosyncratic of one sexual orientation. The varieties of abusive behaviors encountered in heterosexual relationships (physical, verbal, sexual, emotional) are also found in gay and lesbian relationships, and their effects are no less destructive. It doesn't hurt any less to be abused by your partner because you're in a same gender relationship. On the other hand, there are some important differences that the therapist should be mindful of when counseling gay or lesbian clients. Some of the important issues regarding abuse in same gender relationships are:
1. People sometimes assume men and women in same gender relationships are "on an equal playing field," and that the abuse cannot, therefore, be as serious as that found in heterosexual relationships. The truth is, domestic assaults in same gender relationships can be every bit as violent and as dangerous as those in heterosexual relationships.

2. People in gay and lesbian relationships may have more difficulty securing assistance from community resources such as shelters and specialized counseling programs. On the other hand, they may underutilize the community resources that are available, fearing that they will face discrimination because of their sexual orientation.

3. Concerns about the consequences of "coming out" may prevent victims and perpetrators form seeking help. Revealing one's sexual orientation is a major life decision. There are legitimate fears about losing custody of one's children, rejection by the family of origin, potential adverse effects on one's career, and a lifetime of exposure to prejudice in its many forms. For a number of my clients, the involvement of the criminal justice system in a domestic violence incident had the effect of an involuntary "outing." This was the case whether my client was the victim or the aggressor. As with cultural issues, the counselor must be aware of and prepared to address a wide range of concerns heightened by the presence of partner abuse.
Additional Considerations in a Treatment Plan
Develop a reasoned policy about disclosing and receiving information from the abused partner, and discuss your policy with your client. The freedom to talk openly with the abused partner is important, as situations often arise in which client confidentiality is at issue. Further, clients may not be forthcoming about continued abusive behavior. I suggest that you obtain a release of information that allows you to talk to the abused partner about the progress made by the abuser, answer questions, provide safety recommendations based on information disclosed in treatment sessions, and to receive reports from the victim about new episodes of abusive behavior. In my own practice, I may refuse to treat an abusive client who refuses to allow limited communications with his or her partner unless there are legitimate and overriding reasons that make them inappropriate. On the other hand, some of my experienced colleagues, whom I greatly respect, argue that such intrusions upon the confidentiality of the therapeutic hour are unnecessary and unjustified. Put some thought into where you stand on the matter, and explain your policy carefully to your clients.
Differences of opinion also arise on the issue of behavioral contracting. I require that all abusive clients contract to stop physical violence towards their partner as a condition of treatment, much as one may require a client to avoid suicidal behaviors or gestures. Clients understand that violation of the contract may result in their discharge from counseling. "I'm going to work as hard as I can to help you maintain a non-abusive relationship," I tell my clients, "but I need to know that you are as committed to this goal as I am. If not, I need to know now." I want my clients to know that meaningful behavioral change is their part of the counseling contract I am making with them. This approach has served my clients and their families well over the years. Conversely, some clinicians believe that such contracts are ineffective and only increase their clients' reluctance to disclose continuing assaults upon their partner. Whatever your position on the issue, be aware that behavioral contracting is an option available to you.
Chapter 2 – Behavioral Intervention Strategies: Self-monitoring, "Staying In the Box," Recognizing Warning Signs, and Time-out
While there are many intervention strategies that one may include in a treatment plan for spousal abuse, time constraints limit the strategies that I can present in a three-hour course. The concepts that follow, however, provide an effective starting point for intervention.
The first step is to define the primary goal of counseling as stopping the abuse. Getting your clients on board, helping them identify ending abusive behavior as a worthy goal, can be a time consuming chore in itself, but it is vitally important. Meaningful progress will be difficult unless your clients accept and understand its importance.
Second, provide clients with a nonviolent strategy to address relational conflict. The strategy should enhance self-monitoring and appropriate problem solving, and provide behavioral strategies that disengage clients from conflict when abusive behavior is imminent. The strategy provided here, referred to as "Staying in the Box" by clients, often becomes a way of life for many of them. "The Box" model, discussed in detail, also provides the framework within which more advanced skills and concepts (such as self-talk and evaluation of core beliefs) are eventually applied.
Third, improve self-monitoring skills by making clients aware of their personal warning signs. Warning signs, as used here, are cognitive, behavioral, and physiological precursors to abusive behavior. Clients learn to use affective tension as a cue to look for their warning signs. The process enhances self-monitoring and helps clients identify the point at which temporary disengagement from the conflict is necessary.
Fourth, teach clients effective time-out strategies. While most clients think they know all about time-out, there are usually misunderstandings about it. Time-out is not a panacea, and when misused it can actually intensify the conflict. In fact, many acts of domestic abuse occur just as one partner is trying to walk out the door. There are rules that apply to the time-out procedure. Further, clients must understand the difference between "just leaving" or "storming out," which usually make things worse, and time-out, which has a calming effect.
These four steps will not resolve all of the problems faced by your clients. However, they accomplish two important objectives: (1) they decrease the likelihood of injury in the heat of family conflict, and (2) they foster an environment in which partners can begin to resolve their problems rather than fight about them.
As mentioned earlier, be prepared to explain the importance of these objectives to abusive clients, as they often want to talk about other problems in the relationship early in the counseling process. More specifically, they want to talk about how their partner angers them, and they want you to do something about it. The strategy presented thus far directs clients in the early stages of counseling away from daily problems in the relationship and toward an evaluation of the strategy used to handle the problems. In the interest of victim safety, address specific problems only after a non-abusive strategy for dealing with them is in place. Redirect clients toward the larger problem: they react to conflict in an abusive manner. Start there. Develop non-abusive strategies for addressing conflict first - then address specific concerns within the framework of those strategies.
Staying in "The Box"
"The Box" model took form over many years of experimentation in a dedicated counseling program for spousal abuse. Known by our clients as "Staying in The Box," they consistently rated it as one of the most important components of their program in post-treatment questionnaires. As an aside, colleagues and I have also found the model a useful starting point in counseling for anger management, borderline personality disorders, and in couples' counseling for partners whose hostility for each other has risen to the point that they consistently attack each other rather than their problems.
When presenting "The Box" model to your clients, it's helpful to begin with visual illustrations of the concepts such as the one below.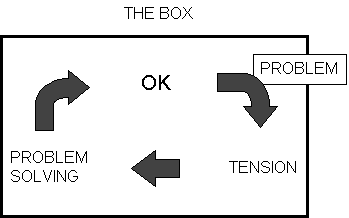 OK Zone: Periods Of Calm
The Box model starts with the area marked "OK." The "OK Zone" represents a period of calm, in which there are no serious problems to resolve. Things may not be perfect in the OK Zone, but the client and his or her partner are generally satisfied with the way things are going. I advise clients to enjoy this period of calm while it lasts, because it never lasts for long. It ends when a significant problem comes up.
The Problem
Following the arrows in the box, you see that the OK zone ends when a problem arises. Relational problems, of course, are an inevitable part of living with another person. No two people are exactly alike. Each partner has their own expectations and attitudes about issues like how to spend money, how much time to spend with friends, and how to use leisure time. Differences may exist about the division of household chores, the proper roles of men and women, sex, work, children, the desire to stay close to the extended family, future goals, or anything under the sun. If one partner is abusive, they almost certainly disagree about the proper way to resolve their problems and express anger towards each other.
Tension: Things Are Not OK
Problems inevitably cause tension between the partners. Things were OK before the problem came up, but they are definitely not OK now. They know things are not OK because there is a feeling of "tension" between the partners that was not there before. The word tension, as used here, is a generic word that refers to feelings of anger, frustration, resentment, jealousy, or any other feeling associated with anger. Emotions such as those listed below are associated with the "Tension Zone" of The Box.
Forms of Tension:
Frustration
Annoyance
Defensiveness
Insecurity
Anger
Resentment
Indignation
Irritation
Jealousy
Rage
Bitterness
Infuriation
Spite
Rivalry
Exasperation
Aggravation
The sequence of events suggested by The Box is critically important to abusive clients: the calm of the OK Zone - disrupted by a problem - creates tension. The Box model attributes the abuser's tension to a problem, rather than to his or her partner. It follows that resolving tension requires that the problem be attacked, not the partner.
Problem Solving
"What you do now," clients are told, "is extremely important. How you choose to behave when tension arises determines the type of relationship you have. The important thing to understand is that you cannot get rid of feelings like anger by venting, lashing out, or hurting your partner. The only way to get rid of anger is to solve the problem causing it - by problem solving."
Tension builds until clients solve the problem behind it in a way that both partners find acceptable. Tension levels may go up and down over time, but the tension never goes completely away until they solve the problem and return to the OK Zone. If one partner walks away and refuses to talk, or if one partner gets his or her way by bullying the other partner, tension remains because the problem is still there.
Once clients understand the relationship between tension and problems, tension becomes an affective cue to begin the problem solving process, rather than a prompt for verbal or physical aggression. This link between negative affect and problem solving is an essential element in meaningful change, and the therapist must be sure that the client thoroughly understands it. In addition, the concept that problem solving is the only way to eliminate tension (the negative affective state) cannot be overemphasized. There is no alternative route back to the "OK Zone" (emotional equilibrium).
What Happens When You Don't Solve Your Problems
"When a problem comes up," I tell clients, "tension starts to build and disconnects you from your partner. When this happens, the goal is to reconnect with your partner (get back to the OK Zone) by solving the problem. If you do that, the tension between the two of you will go away, but let me make this point once more - tension never goes away until the problem behind it is solved. Problem solving is the only way to make things really OK again. When you feel tension (or anger, frustration, jealousy, etc.) between you and your partner, it means there is a problem that needs to be solved."
The way abusive clients choose to handle problems and tension can define their relationships. Successful couples understand that the feeling of tension is a signal telling them that they need to work together as a team to resolve a problem. It is not a signal to vent anger or abuse each other. Effective problem solving strategy does NOT include yelling, throwing tantrums, or acting like a spoiled child. Instead, successful couples are respectful and work together as a team. They attack the problem, not each other. They know that things will be OK again once the problem is solved. Actually, things will be better than they were before. Confidence in their relationship and their trust in each other is confirmed from the experience of working through a problem successfully. After all, they've demonstrated their ability to work together and successfully resolve a problem, and they know that they can do it again if they have to.
Clients must understand that whether their relationship flourishes or fails does not depend on the quantity or nature of their problems. Rather, success depends on how they handle the problems that come up. Couples who enjoy long-term, satisfying, (and non-abusive) relationships have their share of problems just like everyone else. Their relationships work because they tend to be good problem solvers. They know that communication, respect, compromise, and negotiation get good results, while venting, yelling, and controlling tactics do not. Unfortunately, many people in relationships have yet to figure this out.
Clients must understand that when they respond to problems in an abusive manner, they put themselves on opposite sides of the fence from their partner. They become an adversary instead of a teammate. The problem becomes a wedge driving the two partners apart, making problem solving impossible. This is why some couples never really solve their problems - they only argue and fight about them. They never really get back to the OK Zone. Tension from unresolved problems builds up over months and years and bleeds over into new problems. Partners blow up over relatively minor issues and they fight constantly. Over time the softer feelings of love, support, and caring are covered with a heavy blanket of anger, mistrust, and resentment. Communication becomes increasingly hostile and abusive; each new abusive act and hostile word further erodes the relationship. Finally, as a beach washed away in a storm, there is nothing left to save. Their relationship damaged beyond repair, the couple can never get back to the OK Zone.
The Argument Phase
When the solution to a problem is not readily apparent to both partners, an argument often begins, as shown by the dark arrows in the illustration below.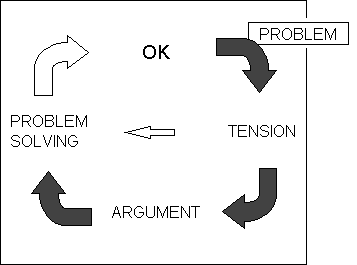 The word "Argument" for this area of The Box was chosen carefully. Many abusive clients minimize their behaviors by using the word "argument" to describe them. Clients must understand the difference between an argument and abuse. Clients often need help with this concept, and some clients call anything an argument. There can be abusive incidents that have babies crying, dogs barking, police helicopters circling, and frightened neighbors calling the police. Asked, "What's going on?" some clients will say, "We're having an argument." The "Argument Zone" of The Box is included in an effort to address this issue.
Notice that the "Argument Phase" lies inside the box, indicating that arguing is acceptable behavior during conflict, as long as one understands where an argument stops and a fight (or abuse) begins. An argument, as discussed here, does not involve verbal abuse or violence. Helen is a good example of a client who needed help with the "argument" concept. One day Helen drove to the apartment of her boyfriend, Tom. When Helen arrived, she saw Tom talking to a voluptuous young girl on the sidewalk by the apartment. Helen, in a jealous rage, stomped on the gas and drove her car straight for Tom. He saw her coming and, as Tom is no dummy, he jumped onto one of the cars parked nearby. Helen slammed into the car Tom was perched on and threw her car into reverse for another try. Tom nimbly jumped from car to car as Helen repeatedly tried to turn him into road-kill. This went on until the police arrived. After her release from jail the court sent Helen to me for counseling. When I asked her what happened on the day of her arrest, she said meekly, "I had an argument with my boyfriend."
In an argument there is no attempt to abuse (or as in Helen's case, to kill) your partner. Anger expressed during an argument is free of threats, name-calling, or physical violence. You can tell someone you're angry without telling them off, and that's the difference between an argument and a fight. Clients respect their partners during an argument, but disrespect their partners during a fight. When clients engage in abusive, hostile, or disrespectful behavior, they are not arguing. They are fighting. The chart below shows the difference between behaviors that are "in the box" (arguing), and those that are "out of the box" (abusing).
In "The Box":
Keep your tone of voice down
Show respect in the words you choose
See yourselves as teammates
Constructive focus: Attack the problem, not your partner
Out of "The Box":
Yell and shout
Swear, insult your partner, call your partner names
See your partner as your adversary
Destructive focus: Attack your partner and forget the problem
Clients cannot always avoid arguments and appropriate expressions of anger. Nor should they always try. When clients assume personal responsibility for expressing anger in a non-abusive way, positive change can occur in their relationships. When people assume responsibility for expressing their anger in a non-abusive way, their partners do not feel personally attacked or threatened. They listen to one another without getting defensive. They come to trust each other well enough to express themselves and their feelings openly. A better understanding of the each other's needs and expectations is the result. The better clients understand each other, the more effective they will be at problem solving.
In abusive relationships, the focus is not on solving the problem. Rather, one person (the abuser) vents anger towards his or her partner. The abuser is not interested in resolving problems or working as a team. Instead, he or she is motivated to control, harm, humiliate, and intimidate. The abusive person attacks his or her partner rather than the problem, as shown in the following chart of The Box.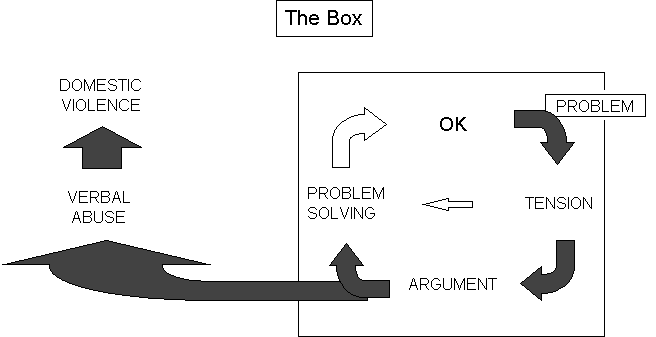 Getting Out of "The Box": Verbal Abuse
The dark arrows in The Box show the road that leads to abuse and violence. Tension starts to build when a problem comes up. An argument follows. When tension reaches a certain point, the problem is forgotten and the abuser gets "out of the box." In other words, the abuser starts to attack his or her partner. In most instances, the attack starts with verbal abuse, which is usually the first sign that the client is out of the box. The verbal abuse further escalates the tension between the couple. Verbal abuse is like throwing a match into a pool of gasoline – it's just as explosive. It is often helpful to provide clients a list of behaviors identified as "verbal abuse," such as the one below.
Forms of Verbal Abuse:
Yell
Harangue
Chew out
Humiliate
Rip into
Shout
Sarcasm
Denigrate
Offend
Lambaste
Insult
Curse
Bully
Nettle
Put down
Name call
Berate
Swear
Rant
Castigate
Threaten
Belittle
Condescend
Scold
After listening to so many people relate the chain of events that led to violence against their partner, I am convinced that in the vast majority of cases, verbal abuse "unlocked the door" for the physical violence that followed. One of the most beneficial and important resolutions that your client can make is to stop engaging in verbal abuse. When clients become angry during the argument phase, they have a choice to make. Take the road toward violence by engaging in verbal abuse, or take the high road toward problem solving and conflict resolution. Clients must understand that the choice is theirs alone, and they must take full responsibility for it.
As the model suggests, verbal and physical abuse usually occurs after a period of tension building and arguing, especially in the early stages of a relationship. But that is not always the case. In time, a person may begin to abuse the partner with little or no argument phase. Clients must understand that in any stage of a relationship, every person who abuses does so because he or she wants to, because he or she chooses to. In every case, without exception, the only person responsible for the violence is the one doing the hitting. This concept is crucial, as it challenges two commonly held beliefs about abusive behavior: "I can't be held responsible for the way I act when my partner pushes my buttons," and (2) "Abusive behavior is justified when I am justifiably angry."
Establish the Goal of "Staying In the Box"
The goal of is to help clients stop abusive behavior by staying inside the boxed area on the chart. We call this "staying in The Box." As long as clients are in The Box, they won't engage in abusive behavior. To accomplish this goal, they monitor and attend to their own words and behavior, especially words and behaviors that are abusive. Usually, the first warning that they are outside of The Box will be their own verbally abusive language. Explain that verbal abuse escalates anger, and unlocks the door for physical abuse to follow. It is an indication that the client is out of the box, and moving towards a violent incident. Develop a behavioral contract with clients stating that they will step back and cool off when they find themselves outside of The Box. In other words, use their head rather than your hands, and take a time-out to regain self-control. The details of the time-out procedure follow.
Time-Out
Imagine that you are the coach of a professional basketball team. The score is tied and there is a minute left to play. Suddenly, the other team scores two quick goals. As the coach, what are you likely to do? If you're a sports fan you know the answer: call a time-out. Professional sports teams call a time-out when they're not playing well. A time-out gives them a chance to get organized, calm down, and plan the next play. Hopefully, they start working together as a team again. Time-out can also be used in our relationships, and for the same reasons. In this lesson we'll be talking about calling a time-out to stay in control of feelings and behavior. A time-out can help your client and his or her partner work together as a team and, more importantly, it can prevent future episodes of verbal or physical abuse.
Time-out seems like an easy tool to use. When your clients think they're going to lose it, they leave until they calm down. That's all there is to it, right? Wrong. Time-out is not a cure-all. It won't work for everyone, and it won't solve all of our clients' relational problems. Secondly, there's a lot to know about taking a time-out. If used incorrectly, a time-out actually makes things worse. Many people who come to me for counseling tell me that their domestic violence incident took place as they were trying to walk out the door. Lastly, a time-out is very different from just leaving or storming out. There are rules to the time-out procedure that your client should know about.
Before going over the time-out procedure in detail, let's be very clear about what a time-out is not. It is not the purpose of a time-out to avoid talking about problems. The purpose of a time-out is to give clients a chance to regain their composure and judgment so that they can discuss problems calmly and without verbal or physical abuse. Occasionally, I hear of clients who call a time-out whenever their partner brings up something that they don't want to talk about. The wife of a client once called me to ask, "What in the world are you teaching my husband in that group of yours?" I could tell from her voice that she was frustrated. "What's wrong?" I asked. "I'll tell you what's wrong!" she shouted. "Every time I try to talk to him he calls a time-out and leaves the house!" Don't allow clients to use a time-out to dodge problems.
It's also wrong to use a time-out to control a partner. One client tried to use time-out to control his wife by placing her on time-out whenever she was angry. In a voice that a parent might use when sending a child to her room, he would point at her and say in his most official voice: "You're out of control! Go take a time-out!" (I can't tell you how badly that worked.) The time-out procedure is not a way for clients to punish their partner for expressing anger. Advise them against calling a time-out for anyone but himself or herself. Time-out is a way for clients to take responsibility for their anger, not a strategy to control the anger or behavior of others.
And then, there was Scott. Scott was a new client attending his first session. As it happened, we were talking about time-out. When he heard the words time-out Scott sat up and practically shouted to the group, "Listen to this, guys. This time-out stuff really works! Last time "my lady" and I got into it, I left and went to Vegas. I didn't come home for three days! Man, was she sorry." Explain that a time-out does not mean storming angrily out of the house, deliberately causing your partner to worry about what you're doing and whether you're ever coming home. Time-out is not an excuse to leave and have fun. It's certainly not a way to win a fight by making your partner feel "sorry."
Time-out Is Not Storming Out
During an argument, people sometimes storm out of the house. We all know what storming out is. When you yell in your loudest and most dramatic voice, "I'm not listening to this s*** anymore," stomp through the door and slam it behind you, you've stormed out. Help clients understand that storming out is unfair to their partners, and it only makes the situation worse by escalating tension. When you think about it, storming out is nothing more than an attempt to punish a partner by causing him or her worry about where you are, what you're doing, who you're with, and when you'll return. Your partner doesn't know whether you're leaving for now or for good. Storming out of the house also provokes feelings of disrespect and abandonment on the part of your partner. It suggests that you don't take your problems seriously enough to stay and work them out, and that you don't care anymore. It escalates anger and the risk of violence. When you storm out your partner may try to prevent you from leaving. As I noted earlier, many domestic violence incidents happen just this way.
Time-out is different. There are rules to follow during the time-out period, and it's important to follow them. In fact, clients should discuss the time-out rules with their partner before attempting to use it in the heat of conflict. If they discuss the purpose of a time-out and the guidelines that they will follow during the time-out period, the partner will be more likely to cooperate when a time-out is called.
The Time-out Rules
RULE 1: DON'T USE ALCOHOL OR DRUGS DURING THE TIME-OUT PERIOD
Abstinence from drugs and alcohol is important during the time-out period. Once warning signs are present, clients need their judgment intact. The whole purpose of a time-out is to recover one's judgment and emotional stability, and to apply the skills and concepts learned in counseling. Self-impairment with drugs or alcohol defeats that purpose.
RULE 2: SPEND THE TIME-OUT PERIOD ALONE
It is also important that clients spend the time-out period alone. When clients turn to their friends during a conflict with their spouse, friends usually side with the clients. Rather than calming the situation, friends can escalate it by reinforcing the notion that the partner is the sole cause of the conflict. There are exceptions of course, but friends and family usually take the client's side. After all, they are the client's friends and family. Statements like, "I always knew he wasn't the man for you," "I wouldn't take that s*** from my girlfriend!" or, "You've got to show her who's the boss!" are one-sided and do not help the client see their role in the conflict.
Advise your clients to spend the time-out period alone doing things that calm them down. Recommend that they listen to music, take a walk, shoot some baskets, jog, or choose some other solitary activity. Relaxation techniques such as deep breathing and progressive muscle relaxation also can help to reduce the tension level. Most importantly, clients must talk rationally to themselves about what's going on. To encourage rational thought, teach clients to ask themselves questions during the time-out period, such as those below:
Am I blowing this problem out of proportion?
What are the consequences going to be if I get out of the box?
Have I handled my anger in an appropriate way, or have I made the situation worse?
Have I done or said anything for which I should apologize?
Am I coming across as hurtful, blaming, or controlling?
Have I shown respect for my partner during this argument?
Have I behaved like a loved one or an adversary?
Can I compromise and negotiate, so we can both get part of what we want?
Have I been trying to solve a problem, or just arguing about who's right and who's wrong?
Have I been attacking the problem or my partner?
RULE 3: IT'S NOT A TIME-OUT UNTIL YOU SAY THE WORDS: "TIME-OUT"
Remind your clients that their spouses can't read their minds. "If you want a time-out," I advise my clients, "you have to say so. When you use the words 'time-out,' you're telling your partner that you promise to abide by the rules during the time-out period. Unless you say, 'I need a time-out,' you're just leaving or storming out."
RULE 4: TELL YOUR PARTNER WHEN YOU'LL BE BACK
How long should a time-out last? In my program, a time-out lasts between 15 minutes to an hour. This is in sharp contrast to those who advise: "Don't come back until you calm down." If clients call a time-out as soon as they start to get out of The Box - and if they do what they are supposed to do during the time-out period - one hour is plenty of time to start thinking rationally and reduce anger to manageable levels. In addition, when partners know that clients will be back in a reasonable time they are more likely to cooperate with the time-out process. This is an important consideration, because everything tends to come unraveled when the partner refuses to allow the abusive client to take a time-out.
RULE 5: RETURN ON TIME
Suppose your client promises his or her partner to be back in 30 minutes, but comes home three days later. The client has created an entirely new conflict. Further, what happens the next time the client wants a time-out? Will the partner let your client leave again? The effectiveness of time-out depends upon the client's willingness to follow the rules. Breaking the rules reduces the chances that time-out will be successful in the future.
Monitor Warning Signs
When do clients call a time-out? Clients call a time-out when they see their own warning signs. Warning signs tell your client that they are about to express anger in an abusive and destructive way (get out of The Box). They are acting out of anger, rather than good judgment. Anger is running the show and they are not thinking rationally. Most likely, they aren't doing much thinking at all, and they've lost sight of the original problem. Problem solving has stopped, and they are about to attack their partner rather than the problem. When clients see their warning signs, teach them to stop and call a time-out.
The moment that tension starts to rise, clients should start to monitor themselves for warning signs. It is vital that they have a keen awareness of their personal warning signs. People who fail to monitor themselves or recognize their warning signs have difficulty using the time-out procedure, and they are much more likely to engage in new incidents of abuse because they will not call a time-out when needed. The time to pinpoint their personal warning signs is early in the counseling process. I have had many opportunities to interview clients who failed to stay in The Box and engaged in new incidents of spousal abuse. In most cases, their failure to stay in The Box was due to: (1) a lack of client commitment to end abusive behaviors, or (2) inadequate client awareness of their warning signs, which are the cues that prompt the request for a time-out. In most cases, addressing one or both of these issues with the client resulted in an increase of appropriate time-out calls by the client, and a corresponding reduction of abusive behavior toward their partner. When a client reports new abusive behavior, explore with the client why the warning signs were not seen (problem 2), or if the client did see the warning signs, why they were ignored (problem 1). Clients need to develop an intimate and experiential understanding of three types of warning signs:
(1) Behavioral Warning Signs: Behavioral warning signs are aggressive words and hostile behaviors that clients may engage in as tension rises. I have listed examples of behavioral warning signs below. This is not an exhaustive list. Take time to explore for behavioral warning signs that may be unique to each client.

YELL
INVADE PERSONAL SPACE
CURSE
SLAM A DOOR
THREATEN
PUNCH A WALL
INSULT
THROW OR BREAK SOMETHING
GLARE IN A THREATENING MANNER
RAISE A FIST
SAY THINGS INTENDED TO HURT

(2) Cognitive Warning Signs: Cognitive warning signs refer to the thoughts that run through your client's mind as the tension level rises. At higher tension levels, there are important changes in the way abusive clients think. Common examples of cognitive warning signs are:

MENTAL IMAGES OF VIOLENCE TOWARD THE PARTNER
THINKING, "YOU'RE SUCH A ..." (NAME-CALLING)
THINKING, "I OUGHT TO TEACH YOU A LESSON YOU'LL NEVER FORGET!"
THINKING, "I'LL SHOW YOU WHO'S BOSS!"
"AWFULIZING" (LABELING AN ANNOYING SITUATION AS AWFUL AND TERRIBLE)
THINKING, "I'M GONNA TEACH YOU TO RESPECT ME!"
THINKING, "YOU'VE GOT THIS COMING, YOU ASKED FOR IT!"
THINKING, "I'M NOT RESPONSIBLE FOR WHAT I DO NOW – YOU'VE PUSHED ME TOO FAR!"
OBSESSING ABOUT A PERCEIVED SLIGHT OR INJUSTICE
MENTALLY LABELING ABUSIVE BEHAVIOR SOMETHING ELSE (SELF-DEFENSE, STANDING UP FOR MY RIGHTS, ETC.)

(3) Physiological Warning Signs: Physiological warning signs refer to the changes that take place in the body of your clients when the tension level rises. Common examples include:

TIGHT STOMACH
TUNNEL VISION
INCREASED HEART RATE
SWEATING PALMS
TREMBLING HANDS
FLUSHED FACE
RAPID BREATHING
CLINCHED TEETH
MUSCLE TIGHTNESS
TENSION HEADACHE
Warning signs vary greatly from person to person. With thought and practice, your clients will start to understand the warning signs that are meaningful to them. After giving it some thought, some of my clients have identified warning signs that are unique and distinctive to them alone:
John: "When I'm really mad I start to smile. This means I'm ready to hit someone."
Kareem: "I get really quiet. I mean, I just stop talking. It's like I'm trying to hold the lid on and not explode."
Lisa: "I start to bite my cheek and pinch myself."
Andrea: "I think about the way I was abused by my ex, and now I'm going to hit first."
Patricia: "I start to clean everything around me as hard and as loud as I can."
Pedro: "I start to feel sorry for her, really sorry for her, because I know what I'm going to do to her."
The following two examples illustrate how clients learn to apply their warning signs. The examples come from the homework of two clients in my counseling program, who I will call Paula and Darryl. Both clients are relatively new, and the homework illustrates their initial efforts to incorporate new skills and strategies to resolve conflict in a non-abusive manner.
Paula's Homework:
My daughter Michelle and I got into an argument. I had placed her on restrictions. I said to her that she is grounded for failed grades. I went off to work and she decided to step out of the house. She disobeyed the rules. When I came home, she was not in the house. I waited for her arrival. She walked in and said hello. I asked her of her whereabouts and she replied, 'I'm not staying home - I don't care what you say. I'm not staying home - I'm on vacation.'

My blood is boiling. I feel hot. My hands are perspiring, my voice cracking. I was MAD. Michelle was hostile. I recognized my warning signs. I decided to take a time out until I cooled off. I then asked her to come into the bedroom so we may have a discussion.

I could have behaved erratically and as hostile as she did. Because of the time out, I was able to gather my thoughts and calm myself down for problem solving. I reminded myself of the quote I read in class: "I am today what my choices were yesterday, I will be tomorrow what my choices are today."
Darryl's Homework:
On Wednesday night, after getting out of class, my girlfriend picked me up from the classes. So right then when everything was fresh on my mind I explained to her every little detail I was taught in class and explained to her if she could help me with my homework. Anyway, the topic was about taking time out and setting up an agreement about taking time out. So we did (talked about the time outs) and agreed to get out of each other's face when tensions flare up, and take a 20-minute time out. About a few days ago, we both got into an argument. (Hey, who would of knew that an argument would of come up!) A perfect time to practice my time outs. She noticed it first that me and her were going at it at each other. It started to build up (the argument). So right then she tells me, "I need a time out." (Why, I ask myself, didn't I notice it first?) But anyways, she tells me to leave the house and my first reaction was, "NO, I WANT TO FINISH THIS ARGUMENT." (As I said in my mind, and not out loud. Well really, thanks to Wednesday's classes for that practice.)

Anyhow, as I left out of the house and took off with anger inside me I finally snapped and told myself, "F***!!!! I need a time out." So as I left the house I took a ride to McDonalds, all mad and aggressive, but at the same time calming down. So I was gone for about ... hmmmmmm, let's see, for about 15 to 20 minutes and she gave me a call on my cell phone and she asked me to come back home and talk about our argument. Right there and then I realized something. I'm the type of person (like my father) who has to finish the arguments right then and now!!! But I say thanks to those time outs, cause if this was, let's say 2 weeks ago, I'd probably be in more trouble than what I'm already in!
If your clients are having trouble identifying their warning signs, suggest that they ask people who know them well, "How do you know when I'm getting really angry?" They will be able to tell them what many of their warning signs are. Encourage clients to put vigorous effort into acquiring a perfect awareness of their warning signs. I tell clients that they should recognize their warning signs as easily as they recognize their own name or the faces of their own children. It's vital information.
Seagoing skippers keep a vigilant watch for reefs or rocks that may lie ahead. Once seen, they take decisive action to avoid them. To do otherwise would mean shipwreck and disaster. Warning signs are like reefs and rocks that are directly ahead. Failure to recognize them and avert them is reckless and foolish. Like the skipper of a sailing ship, clients have to watch for their own personal "warning signs" that signal the need for a time-out. Warning signs are like huge stop signs that say: "STOP HERE! DANGER AHEAD! CHANGE COURSE NOW! Do not proceed any further down the road you're on. It will only end in further abuse and trauma.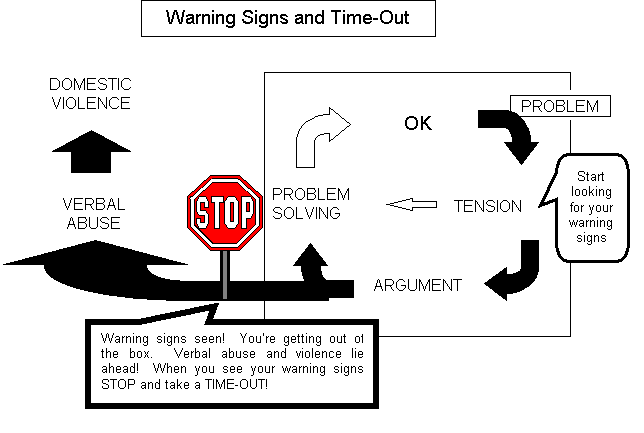 Whatever your clients' warning signs are, they need to recognize them as personal warnings that they are about to act in an abusive and destructive manner. As shown in the illustration above, tension becomes a cue to for self-monitoring. In time, clients habitually search for warning signs when they start to feel emotional tension. At the first appearance of one of their warning signs, they call a time-out and apply cognitive and behavioral strategies to reduce tension and increase rational thought before they become verbally or physically abusive.
Your Client Must Be His or Her Own Coach
Professional sports teams have coaches that call a time-out to help their players calm down, regroup, develop a game plan, and work together as a team. Unfortunately, there will be no coach on the sidelines when your clients need a time-out. They have to be their own coach. In other words, they have to call the time-out for themselves when they need it. Success requires knowledge obtained from the counselor, such as a thorough understanding of how the time-out procedure fits into The Box and insight into their personal warning signs, as well as the capacity for self-monitoring and the discipline to call a time-out "in the heat of battle," when part of the client would rather continue the fight. Clients acquire these skills through practice and perseverance, and they come easier to some clients than others.
I've found it helpful to warn clients that calling a time-out sounds simple and straightforward, but it may be difficult to do when tension is running high. It is often necessary to address problematic cognitions such as the belief that time-out is a sign of weakness, and the perception that the partner will take advantage of them if they don't respond to conflict aggressively. Defining the act of staying in The Box and calling a time-out as "showing leadership" has been helpful for many clients. Be sure, however, to clarify that leadership means leading by example, not controlling what others say and do.
The "I Don't Care" Lines
Sometimes clients fail in their efforts to call a time-out because they wait too long before calling it. Rather than calling a time-out at the first warning sign that their behavior was becoming destructive, they "run the stop sign." In other words, they saw their warning signs, but ignored them. As anger escalated they plowed on, swearing and yelling, running stop sign after stop sign. They knew they were out of The Box, but they didn't care anymore. Anger escalated to a point that they no longer thought or cared about the consequences of their behavior. As anger mounted, they crossed the "I don't care what I say" line. Then they crossed the "I don't care what I do" line.
The concept of the "I don't care what I say" and "I don't care what I do" lines has been very helpful to abusive clients. Many people avoid responsibility for their behavior my saying, "I lost control of myself." I tell clients that I don't believe they abuse people because they lose control of themselves. "That's nonsense," I argue. "We all know when we're saying and doing abusive things. We know exactly what we're saying and doing. We also know it's wrong. It's just that we allow our anger to grow to the point that WE DON'T CARE ANYMORE. That is very different from losing control. We do not lose control; rather, we get so mad that we "don't give a damn." When we stop caring about our partner or the consequences of our behavior, we allow ourselves to get abusive. Abusive behavior is a choice that we must take full responsibility for." Depending upon your theoretical orientation, you may disagree with me on this issue. I strongly submit, however, that it is better for your abusive clients to think in these terms.
The first sign that people "no longer care" is when they choose to get verbally abusive. When we use idioms such as "flipping our lid," "going off," "blowing our stack," and "losing it," we mean that we have crossed the "I don't care what I say line." We're out of The Box at this point. Problem solving has stopped, and verbal abuse causes anger to build in a manner similar to the tornado below. Crossing the "I don't care what I say line" is like throwing a match into a pool of gasoline. Anger and tension escalate swiftly. As the verbal battle rages beyond the "I don't care what I say" line, clients move toward the "I don't care what I do line," which is even more hazardous. When clients reach that line, the hitting starts.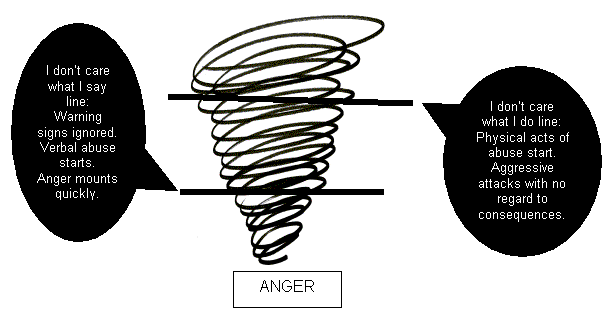 Skillful monitoring of warning signs and calling time-out will help keep clients in The Box and below the "I don't care" lines. On the other hand, clients ignore warning signs at their peril. Ignoring warning signs is like running stop signs on a busy street. They may run one or two without incident, but eventually they will find themselves in a wreck. The longer one stays beyond the "I don't care what I say" lines before calling the time-out (the more stop signs they run), the less chance there is that the time-out will be successful. Teach clients to call time-out at the FIRST appearance of their warning signs, while they still have the judgment and emotional stability needed to make wise choices.
When Time Out Is Over
A time-out is no substitute for problem solving. It only prevents clients from saying and doing things that make their relational problems worse. As discussed earlier, problems cause tension between clients and their partners, and the tension lingers until they solve the problem. Problem solving is the only passageway back to the OK Zone of The Box. When the time-out period is over, clients must resume their efforts to problem solve as a team, and stick to it until they are truly back in the OK Zone and the tension surrounding that problem is gone. To summarize, the steps that clients take in an appropriate time-out procedure are:
Monitor your behavior by watching for your warning signs. Call a time-out as soon as you see them.
Acknowledge your anger to your partner and say you need a time-out. Say the words.
Tell your partner how long the time-out will last (15 minutes to an hour).
Agree to pursue the problem further when you return.
Spend the time-out period working to reduce your anger. Tools like relaxation exercises and physical exercise can help. Most importantly, self-talk (talk to yourself in a cool and rational manner).
Come back on time and continue problem solving inside The Box. Keep watching for your warning signs.
Call another time-out if you need to, but keep at it until you solve the problem and get back to the OK Zone of The Box.
Help Your Clients Write an Anger Inventory
The Anger Inventory reveals the effects of abuse, both in the lives of your clients and in the lives of their family members. Once aware of destructive patterns and behaviors, clients can more easily choose to avoid them in the future. However, clients must avoid denial, blame, and minimization of abusive behaviors to benefit from the exercise. An effective Anger Inventory helps clients to recognize denial, blame, and minimizing as adversaries to meaningful change, and to avoid them as they work to maintain violence-free relationships.
Jesse, a prior client, is a good example. After working on his Anger Inventory for several weeks, Jesse was surprised by what he discovered about himself. "I would never have believed it," he told the other men in his group. "The more I write about my life, the more I see that I've become just like my father. When I was a kid I hated the way he used to treat my mom, and I swore that I'd never, ever be like him. But now I see that I've done everything to my wife that my dad did to my mom. The put-downs, the yelling, the hitting, it's the same shit, and I've become just like him. I had no idea."
Martha, another client, also learned a lot from her Anger Inventory. She wrote, "I can't believe how abusive I've been. I can see how I used to 'go off' on others to get my way. I deliberately tried to intimidate people and make them afraid of me. You know, don't get her mad cause you don't know what she might do. I knew exactly what I was doing. It was all about getting my way."
What is An Anger Inventory?
Twelve-step programs such as Alcoholics Anonymous have helped countless people maintain their sobriety and regain their self-respect. Step four of twelve-step programs, making a searching and fearless moral inventory, is an important part of recovery. A personal inventory provides an understanding of the way alcohol has affected a person's life. It's a detailed account of a person's history, from childhood to the present day. Writing a personal inventory is no small undertaking. Particular attention is paid to the use and effects of alcohol, but as the inventory is written, a person gets an honest look at oneself and acknowledges problems and personal weaknesses openly. A person sees, perhaps for the first time, the way he or she really is. Writing an inventory is no small undertaking.
My clients also write an inventory, but the focus is on abuse and destructive anger rather than alcohol. We call it the Anger Inventory. Anger Inventories help people understand the way abusive anger has affected them as children, adolescents, and adults. Clients come to see long-standing patterns in their lives that they were not aware of, and gain insight into how the same mistakes, repeated over and over, work havoc upon relationships. An honest, searching, and fearless Anger Inventory is a remarkable journey of self-discovery.
The questions below provide a starting point, but there is more to an Anger Inventory than simply answering this list of questions. An Anger Inventory looks into the people, relationships, and events that are unique to your clients' lives. They should feel free to write about people and events that are not on this list. Most importantly, they should be overtly encouraged to resist the temptation to write superficial answers. Superficiality, of course, profits them nothing. Help them find the courage to delve into their lives honestly, thoughtfully, and thoroughly.
Sometimes it is hard to for clients to remember the past, especially their childhood, accurately. Indeed, they may have worked hard to forget some things from their past. Looking at old family photos and talking to relatives often helps them recover the past. If possible, encourage them to visit places they have lived before, and take time to reflect. The insights and self-knowledge clients gain is worth the time and effort. Here are the questions that clients start with in my program. Remember, these questions are only a starting point.
Anger Inventory Questions:
1. How did your parents express anger towards each other?
2. How did they express anger toward you?
3. How did you know when your mother and father were angry? What were their warning signs?
4. Did they ever get out of the box?
5. Did you ever see your parents hit, push, or verbally abuse each other?
6. If so, how did it make you feel?
7. Were you abused as a child? If so, how did you cope with the abuse? Did you tell anyone?
8. As a teenager, how did you show anger to your family members?
9. Did you get out of the box as a teenager?
10. Did getting out of the box have anything to do with controlling others?
11. How did you express anger to your peers as a teenager?
12. In junior high school and high school, what did you learn from your peers about expressing anger?
13. By the time you were in high school, how did you think you were supposed to act when you were angry with someone?
14. How did you show anger to the people you were dating?
15. As an adult, how did you handle anger towards your partner when you were dating?
16. Did your behavior change after the honeymoon period ended?
17. How did the unspoken rules about anger and hostility change over the course of your relationship?
18. Have drugs or alcohol played a destructive role in your relationships?
19. What acts of verbal and physical abuse have you engaged in? (Be specific and give a full account!)
20. If you have children, has your angry behavior ever frightened them?
21. Has the way you express anger had negative consequences for you?
22. What negative consequences has your behavior had for your children and your partner(s)?
23. Have prior acts of abuse had anything to do with maintaining power and control over others?
24. Do you take full responsibility for acts of abuse in the past?
25. Do you owe anyone apologies for your behavior? If so, have you tried to make amends?
26. How has your behavior meaningfully changed your behavior for the better?
27. What concepts and skills from this book are most important and useful to you?
28. Give some specific examples of your ability to apply the concepts and skills you have learned to stay in the box.
29. What have you done to ensure that your relationships will be abuse and violence-free in the future?
30. Is this Anger Inventory totally free of denial, blame, and minimizing?
Denial, Blame, and Minimizing
Warn clients that they face three adversaries in their attempt to write a successful Anger Inventory - denial, blame, and minimization. They defeat the efforts of many to be truthful and honest with themselves. As impediments to change, they have the potential to thwart the attempts of your clients to make positive changes in their lives and maintain abuse-free relationships. Denial, blame, and minimizing undermine your clients' ability to learn from the past, and thereby block growth and meaningful change. They keep clients from doing what they need to do to stop abuse and violence in the future. To the degree that abusive clients avoid seeing things as they are and shirk full responsibility for their actions, no important changes will take place. They will be more likely to act abusively again.
When working with abusive clients, it is important that you confront denial, blaming, and minimizing whenever and wherever you find them. They are easy to recognize. If you listen, you will hear them in various forms in almost every counseling session. If you recognize them for what they are – impediments to meaningful change – and relentlessly bring them to the attention of your clients, you will greatly improve their chances for maintaining a violence-free relationship. Denial, blaming, and minimizing as they present themselves in spousal abuse counseling, are easy to recognize. Let us look at denial first.
Denial
Abusive clients attending their first session of counseling are often big fans of denial. (Denial, as used here, more closely resembles the common language rather that the psychodynamic use of the term.) Consider Robert. In his first counseling session, he looks you in the eye and declares with heartfelt sincerity, "I don't belong in counseling! I didn't do anything wrong and I never abused anybody! This is all bullshit! My wife should be here, not me! She's the one with the problem!"
What do you do? If you are new to spousal abuse counseling, you may be overly inclined to believe Robert. After all, he sounds like he is telling the truth. Denial of abusive behavior always places the clinician on the horns of a dilemma. No counselor wants to accuse a client of something he or she did not do. On the other hand, Robert, through his denial, may be telling you how he characteristically deals with his abusive behavior – he just denies it. If so, you do not want to collude with his strategy by failing to confront it.
Dilemmas like this are common, and they speak to the importance of a thorough assessment in the initial stages of counseling. Objective tools such as the Conflict Tactics Scale (CTS) and the utility of a release that allows you to speak with the partner can help clarify the issue for you. However, while the counselor needs to be confident in his or her facts, you will rarely have all of the information you would like to have. Take a moment to review all the information garnered in the initial assessment. If the evidence suggests that the client is denying his or her abusive behavior, confront the denial.
Unless abusive clients like Robert overcome their denial of the problem, it is doubtful that they will be able to make meaningful changes in their behavior. Refusing to collude with abusive clients is the responsibility of every counselor. In turn, clients must assume their responsibility for past abusive behaviors by acknowledging them. In my experience, this is the first step towards making meaningful behavioral change. Until clients take this first step, nothing meaningful happens in our time together. The counselor must be willing to confront Robert's denial, help him summon the courage within himself to face his problem, and provide support his efforts to change. The confrontation strategies below are consistently helpful when I find myself in this situation:
Ask Robert to clarify the discrepancy between his denial and the information at hand. Robert says, "I don't abuse anyone." The therapist responds, "How does that fit with what you told me on the CTS? It says here that you slapped your wife twice, swore at her six times, and pushed her three times in the past year."
Explore Robert's concerns about disclosure. Is he concerned about confidentiality issues or the possibility you will report disclosures to the police? Is there a child custody hearing or a criminal matter pending?
Try to develop an alliance with Robert, and assure him that he does not have to be alone in this. "Robert," says the counselor, "I think there is a lot more to this than what you are telling me. You need to let me be your friend in this. I really want to help you, but I can't unless you tell me what is going on."
Find out what Robert does care about, and link it to his spousal abuse counseling. Robert may not care about the harm he is causing his wife, divorce, or even incarceration. He does not care about himself. Further, he may not like his wife much, and he may be unwilling to make the effort to change for her sake. However, Robert may care very much about his children, his medical license, or something else. Once you know what Robert cares about, suggest that ending abusive behavior can help him keep it. For example, I once had a client who cared about his son, but little else. He acknowledged that abusive behavior towards his son's mother also harmed the child, who often witnessed it. After a couple of sessions, he told me that he put his son's picture in a conspicuous place. When he needed to motivate himself to change (to stay in The Box), he looked at the picture. It worked.
Tell Robert what you want for him and his relationships. "Robert," says the counselor, "if your relationship is having problems like these, it's crying out for someone to step up and be a leader. That might as well be you. I want you to become a true leader in your home. I want you to have the skills and tools you need to handle problems in a way that makes you feel proud, rather than ashamed. I want your family to be proud of you and not fear you." Please remember that use of the word "leader" is very powerful among this population of clients, but you must make it clear that you are talking about leading by example, rather than by making others do what you want them to do. For example, a leader is not a tyrant. Leaders stay in The Box, tyrants get out of The Box. Leaders spawn respect, not fear. Leaders control themselves, not others, etc.
Tell Robert what you need from him in order to continue. "Robert," the counselor says, "I want to help, but to do that I need you to be open and honest with me. I will always be truthful, and I need the same from you. If you are not willing to do that, it's hard to see how I can be helpful to you."
Wish Robert the best and tell him that the session is over. He can go home now.
Known in some circles as "the bounce," the strategy is risky, but it often gets results where other strategies fail. Many of the most successful clients in my counseling program were "bounced" out of my office more than once before they provided sufficient disclosure to accept them as clients. It usually works best when there is significant external pressure on the client to participate in spousal abuse counseling. External pressure may come from a partner threatening separation, a concerned counselor, or even a court order.
Therapist: "Are you sure you don't need counseling?"

Robert: "That's right. I've never abused anyone."

Therapist: "Well, I guess our session is over. Thanks for coming in, Robert. It was nice talking to you."

Robert: "That's it? You don't want to see me anymore?"

Therapist: "I don't think so. I thought you wanted counseling for spousal abuse, but it looks like there was some sort of mistake. Obviously, you don't want it. I don't think we need to meet again."

Robert: "But my wife (or partner, or counselor, or judge) said I have to come to counseling or else! She might even leave me."

Therapist: "Wow, that's really tough!"

Robert: "Well, will you give me a letter saying I don't need counseling?"

Therapist: "No, I can't do that. All I really know is that you don't think you need it. I'll be happy to give you a letter saying you don't think you have a problem with spousal abuse and don't want counseling."

Robert" "That won't help."

Therapist: "Yeah ... I'm sorry about that. Why don't you take some time and think things over. You might remember things that you've done to your partner that you've forgotten about. My door isn't closed to you. If you decide that you do need spousal abuse counseling after all, give me a call. Good luck, Robert."
A counselor may use one or several of these strategies in the same session to confront Robert's denial. As an aside, please understand that confrontation, as used here, does not include efforts to humiliate or degrade the client. Confrontation can be gentle or strong, as your clinical intuition and style indicate, but it is never hostile or demeaning.
Blame
Several years ago a newspaper published statements that people made in auto accident reports. One motorist wrote, "A pedestrian hit me and went under my car." Another wrote, "The telephone pole was approaching fast, I was attempting to swerve out of its path when it struck my front end." I could not help thinking of these statements as I listened to Hank, a new client describe his abusive behavior toward his spouse. When I asked Hank why he hurt his partner, he said, "Because I was mad!" When I asked him why he was angry he said, "Because of what she did!" According to Hank's line of reasoning, his own choices had nothing to do with his act of abuse; it's as if Hank wasn't even there. Hank thinks like an abuser, and that is why he acts like one.
HANK'S WAY OF THINKING:

The problem with Hank's way of thinking is that he blames his behavior on his anger, and he blames his anger on his spouse. What is Hank leaving out? He's leaving himself out. The goal of counseling is to put Hank back into the incident and help him understand the role his thoughts played in (1) the anger he felt, and (2) his choice to express that anger abusively.
Let us get back to Robert. Seeing that his old way of dealing with this problem (just deny it) is not effective, he changes gears: "I'm here because my wife is always pushing my buttons. Believe me, she knows just what buttons to push! She's the one who needs counseling, not me." Robert wants to convince you that he is the victim, so he tries to blame his wife for his actions. He points out her every flaw. He relates in detail every bad thing she ever did to him. In the hope of justifying his abuse, he tries to convince you that he had NO CHOICE other than violence.
When confronting blame, I tell clients like Robert that I understand why he gets angry, but anger does not justify his abuse. Every couple has legitimate problems, I tell him, but the only person responsible for violence is the one doing the hitting, and that was Robert. He does not always get to choose the situation he has to deal with (how his wife acts), but he always gets to choose how he reacts to it. If his reaction is verbally or physically abusive, he has to take responsibility for that. Finally, I tell him that, regardless of how angry he was, HE STILL HAD A CHOICE. Robert, not his wife, chose the violence.
So far, Robert is having an unpleasant session. His usual way of handling problems is not getting very far. Let us take a closer look at the subject of blame. Counselors must challenge their clients' attempts to blame others for their abusive behavior. Blame is an attempt to place responsibility for our choices on others. Blame is easy to recognize if you know what words to listen for. People who blame start sentences with words like you, he, she, and they. Blamers also like to say things like:
She wouldn't let me leave alone.
He got me arrested.
He had a message from his ex on his cell phone.
She was seeing other guys.
She hit me first; all I did was defend myself.
She kept nagging until I blew up.
He should be in these classes instead of me.
She wouldn't do what I told her.
It's his fault I have to take this counseling.
She pushed my buttons.
The easiest way to recognize a blaming statement is to listen to the first word used in the sentence. The first word used will often be "he" or "she". When you hear these words, you can be sure that the abuser is trying to take the spotlight away from him or her and place it on their partner. The blaming abuser wants to point out, in detail, all of their partner's shortcomings, and thereby avoid talking about their own behavior. The blamer wants to show that they were justifiably angry, jealous, or frustrated in the hope that it will excuse their abusive behavior. Playing the "blame game" is a waste of time because anger, however justified, is never an excuse for abusive conduct.
I remind clients like Robert that he does not get to choose how his partner behaves, but he always chooses his own behavior. While he does not get to choose the situation that he has to deal with, he always chooses how he reacts to it. If he chooses to react with abuse and violence, he must take full responsibility for that choice. Blaming does not make abusive behavior acceptable, or make violence against a family member any less hurtful. Robert alone is responsible for his actions, even when he is angry. Even when Robert is angry, he is still responsible for how he chooses to express his anger. If he expresses it in a destructive and harmful way, Robert alone is to blame. In short, justifiable anger is no excuse for spousal violence.
Blaming is the adversary of change. Like denial, it prevents people from accepting responsibility for their choices. Focusing on others prevents clients from learning what they need to do differently the next time they are in a similar situation. Counselors must not allow their clients to spend large quantities of valuable session time addressing the victim's choices rather than their own choices. If clients spend a lot of time using the words "she" or "he," rather than the word "I", there is blaming going on. Encourage clients to focus on themselves, their choices, and on the change that they want to make in themselves.
Suppose Robert says, as clients often do, "If you only knew my wife, you would understand why I blow up!" The therapist may keep the focus on Robert by saying, "I'm not suggesting that your wife is perfect. At times, people behave in ways you cannot understand, or in ways that deliberately hurt and provoke you. Nevertheless, you are always responsible for how you choose to handle these situations. Let's face it - people are not always going to be nice to you. Sometimes people behave in ways that frustrate and infuriate. Still, if you respond to that behavior with abuse and violence, you are in the wrong, period, every time, no excuses. Remember, explaining why you were angry does NOT explain why you chose to express your anger in a violent way. The reason you got angry is one issue. Your choice to express it abusively is a very different issue. What's the bottom line? One of the best things you can do for yourself and your family is to stop blaming others. Take full responsibility for everything you have ever said, and everything you have ever done. Do this, and you're well on your way to making positive changes in your life."
Abusive clients blame their partners, but they also blame their anger. Actually, they blame their partners for their anger, and their anger for their behavior. In a session, the blame sounds like the following exchange:
Therapist: "Why did you hit your wife?"

Client: "Because I was mad!"

Therapist: "Why were you mad?"

Client: "Because of the things she said and did!"

Therapist: "Well, why did she say and do those things?"

Client: "Because she's nuts! Like I said, Doc, she needs counseling more than I do."
Abusive clients attribute (blame) their abusive behavior to their emotional state, and their emotional state to their partner's behavior. They are, as they perceive it, victims of unavoidable anger caused by their partner's irrational behavior. When I listen to new clients describe their abuse, I often feel as though my clients and their partners were not even in the same room during the assaults. In some ways, spousal abuse counseling involves putting the abusive client back in the room and keeping them there. Confronting blame is a decisive step towards this goal.
Minimizing
When we left Robert, he was having a hard time in his first session. You will remember that Robert tried denial and blame, but the counselor was not buying it. Frustrated, he changes gears once more. "OK," declares Robert, "maybe I was wrong! But I didn't hit her, I only slapped her!" Robert has entered the magical world of minimizing. People who minimize use certain words to magically make things appear smaller than they really are. At least, they try. Listening to a good "minimizer" is a little like having a front row seat to a Las Vegas magic act. When I hear minimizing words, I often sit back and enjoy the show. I know that I have to confront it eventually, but I can still admire the skill and talent of a good magic show.
Confront minimizing by teaching clients to avoid using minimizing words. "Robert," you say, "you just said 'I didn't hit her, I just slapped her.' Say that again, but this time leave out the word 'just.'" Robert says, "I slapped her." It sounds different without the minimizing word. Minimizing is an attempt to make abuse appear less severe, usually by using magic words like those in the box below. With a little practice, your clients will recognize them easily.
Magic Minimizing Words:
only
a little
merely
maybe
they said I
I might have
sort of
at most
barely
all I did was
kind of
not more than
once
just
only
no big deal
hardly
argument
Abusive clients made the minimizing statements below. Can you identify the minimizing words? The information in parenthesis came out later.
Minimizing Statements:
It was only an argument. (Client was charged with assault with a deadly weapon.)
I never really hurt her, she just bruises easily. (Client punched spouse repeatedly in the breasts and in her groin area where bruises were not likely to show.)
I never hit her, I just slapped her. (You already met Robert.)
I only pushed her away. I don't know how she hurt her head. Maybe she tripped. (Client pushed his girlfriend so hard that her head slammed against the wall, causing severe bleeding.)
Maybe I had my hands around her throat, but I wasn't squeezing hard, so I never really choked her. (What can I add? This is a classic as it is.)
When clients use words like these to describe acts of abuse, know that they are minimizing. Like denial and blame, minimization keeps clients from looking at their behavior honestly, learning about themselves, and making meaningful changes. To summarize, denial, blame, and minimizing sound like this:
Denial: "I didn't do anything wrong."

Blame: "I did something wrong, but it's his/her fault."

Minimizing: "I did something wrong, but only a little bit."
Abusive clients often use these behaviors to avoid making meaningful changes in their behavior, or just to talk themselves out of doing something that they know they should do, but would rather not. Martin, for example, came to recognize his tendency to use denial, blame and minimizing (he called these behaviors "B.S.") to avoid looking at himself honestly. He knew that they would keep him from making positive changes in his life, and reaching his goal of a violence-free relationship. One day after a session, he wrote this note to himself:
"As I was leaving group, I realized that I can BS (deny, blame and minimize) my way through my homework and my group and never change a thing. I can beat my next mate, go to jail, and return to this group, then repeat it all over again. It's up to me and me alone to take change to heart. I want to be different. I've got to take a more positive and active role in this group. I need to take responsibility for my life (no woman to blame everything on). As I see it, the stronger I am the better my chances are to learn how to make the right choices now and in the future."
Aaron, another member of the group, worked courageously to keep denial, minimizing, and blame out of his Anger Inventory, even though he had to deal with painful memories and some unpleasant truths about himself. Aaron struggled in the beginning of his counseling the way most people do, but in the end, he was successful in his goal to remove violence from his relationship. Here are some excerpts from his Anger Inventory:
Aaron's Anger Inventory
If a person were to look at me, he would see evidence of intelligence and high achievement. He would see undergraduate and graduate degrees, and one year of law school. He would also see a number of academic and professional honors. What he would not see is the profile of an abuser: a physically violent and verbally abusive and assaultive man. Until a year ago, I never considered the possibility that I was abusive or physically violent, but now I know that I am and that I have been for a long, long time. I am aware of the violent and abusive potential within me.
As I agonized in jail for four days, I began my metamorphosis. My thinking evolved from "How could she!" to "What have I done?" Even so, a lot of my concern about what I had done was over the social ramifications and personal embarrassment of my awful behavior rather than on the horrible things I had said and done to my wife. My focus now is on my behavior and how to stay in "the box" and how I can make amends to my family. I never want to lose my vivid mental picture of the forgiving face of my wife through the glass of the visitor's section of the jail. I thank her for filing her complaint against me. In the process of exerting my "male privilege", I physically and emotionally damaged my wife and caused my children inestimable pain and distress. I have seen fear in their eyes as they recognize my rage. I have noticed their avoidance of me at times and their timid demeanor with me. I will forever try to rectify the damage I have done to all my loved ones. I can now empathize with them from the perspective of the scared, bewildered, and angry child that I was.
As I attended my weekly meetings that were mandated by Judge Andrews, I recognized myself in every element that the course covered. I recognized profound denial, blame, and minimizing in my behaviors that eventually necessitated my arrest. I recognized my exercise of male privilege, verbal abuse, and hurtful statements. Ultimately, I recognized that I was a violent man. I also realized that I had considered myself the "victim" while I was victimizing others. My experiences this past year as a result of my arrest for domestic violence have been the most profound of my life. I have learned more about myself than at any other time in my life. I sincerely appreciate the system that is in place to stop domestic violence and to compel me to take a long look at myself. I would not "reform" a single aspect of the unpleasantness that I experienced in jail. It should NOT be a pleasant experience! Furthermore, the domestic violence classes have helped me recognize the awful potential within me and honestly begin to make real changes in my life. I now have tools and lessons to rely on to help me avoid abusive encounters of any kind in the future. Should I fail to heed them, I will have no one but myself to blame.
But what happened to Robert? Robert was an actual client, and he made the statements attributed to him in this chapter. In time, he became a leader in his group. He was successful in his counseling. His success was largely due to his willingness to look at himself honestly. When abusive clients evaluate their behavior and choices honestly, truthfully, and without reservation they open the door for great things to happen. Encourage clients to write their own Anger Inventory by answering the Anger Inventory Questions from this chapter, or similar questions of your own. After answering the questions, have your clients set the answers aside. After a day or two, have your clients read them again and ask themselves:
Was I able to identify and eliminate all denial, blame, and minimizing from my answers?
Was I able to accept full responsibility for my choices and behaviors?
What did I learn from the exercise?
If you are a counselor working with a group, ask clients to share their answers to the Anger Inventory with other group members and get their feedback. If you are working individually, encourage your clients ask people that they trust and respect to read their Anger Inventory and solicit their suggestions and advice. Do not allow clients to cheat themselves. As Robert, Martin, and Aaron found, clients have to keep denial, blame, and minimizing out of the Anger Inventory if they are going to benefit from it.
A Last Word about Denial, Blame, and Minimization
Experience has accentuated the importance of confronting denial, blame, and minimization. They distort the client's perception of the problem and impede meaningful behavioral change. However, over the years I have come to see denial, blame, and minimization as a positive prognostic indicator as well. I feel more optimistic about a client who says, "I only slapped her, and that was only because she pushed me so far that I lost control," than a client who says calmly and with a smile, "Sure, I punched her. In fact, I beat the hell out of her. I'd do it again in a New York minute."
For many abusive clients, denial, blame, and minimization appear to suggest that their abusive behavior is ego-dystonic, rather than ego-syntonic. If ego-dystonic, abusive behavior is viewed by the self as unacceptable and inconsistent with the total personality. Hence, the client experiences a need to distort the behavior (to deny and minimize) and to avoid responsibility for it (to blame). If ego-syntonic, abusive behavior is acceptable and fully integrated into the personality. Through the act of blaming, for example, the client communicates that a part of his (or her) self rejects abusive behavior as unacceptable. That makes my job easier, and I feel more optimistic about helping the client rid himself (or herself) of the behavior. On the other hand, when clients present with no attempt to defend the self through denial, blame, or minimization, I feel less optimistic about change. Ego-syntonic clients may lack important internal motivation to make meaningful and difficult changes in their behavior.
Chapter 3 – Early Cognitive Interventions
The strategies presented thus far emphasize a behavioral framework that minimizes abusive behavior and ensures victim safety as quickly as possible. As counseling progresses, cognitive strategies play an increasingly important role. It is important to understand the "cognitive set" of the abusive client.
Understanding the "Cognitive Set" of the Abusive Client
Over the years, I have had the opportunity to interview thousands of men and women and listen to them talk about their abusive behavior. Some clients grew up in a home where witnessing violence between their parents was a way of life. Others never witnessed violence as a child. Some had been the object of violence themselves, while others had not. Some had tolerated abuse by their partner for many years before participating in the abuse themselves, while others were the sole abusers in the relationship. Among some clients, the violence was widely generalized. Among others, they had never engaged in a single violent act before the single instance of partner abuse.
While the circumstances surrounding the abusive behavior varied from client to client, there was one striking similarity among them. At the instant that clients became abusive, they shared a similar cognitive set consisting of three components. Whenever the cognitive set was fully active, they abused. Whenever the set was not active, or only partially active, they did not abuse. The clients' cognitive set at the time, rather than the situation they found themselves in (what their partners were saying or doing), seemed to regulate abusive behavior. I consistently found that when my clients think like an abuser, they act like one.
How do abusers think? When presenting this information at a live seminar, I ask the mental health professionals in the audience to think of a time when they verbally abused their own partners. This causes some shuffling around in seats, as none of us like to admit that we have ever done such a thing. Nevertheless, if we apply the operational definition of verbal abuse used in The Box model (yelling, swearing, name-calling, insults, etc.) most people acknowledge that they have verbally abused a partner at some time in their relationships. Suppose that we have your incident of verbal abuse on videotape. Rewind the videotape to the moment just before you verbally abuse your partner (yell, swear, insult, etc.). At that moment, just as you are about to abuse, who are you blaming for what you are about to say? The answer is, you blame the person you are about to yell at. How did you convince yourself that it was OK to yell at your partner? The answer is, you either minimized the yelling, called it something else, or both (e.g., Damn it all, I'm only trying to make her understand!). At the instant before the yelling, did you think you had a right to take control? The answer is, yes. You believed, at that moment in time, if only for an instant, that you had the right to control another person by either making your partner do something against his or her will (e.g., Stop it!), or punish your partner (e.g., She has this coming!).
Every abusive act requires transfer of personal responsibility away from the self and to the person we are about to abuse, justification to the self of the imminent abuse, and assumption of power over the abused. At the moment of abuse, the cognitive set looks something like this:
"I'm not responsible for what I'm about to do to you – you are."
"What I'm about to do is OK because it's only (minimize and call it something acceptable to you)."
"I'm the boss, and I have a right to make you do what I want and/or punish you."
Some people abuse a lot. Others seldom or almost never abuse. The frequency with which the abusive set occurs seems to vary, depending upon the core beliefs and values of the individual. Similarly, the level and duration of relational conflict required before the set manifests itself vary according to one's own core beliefs and values regarding responsibility, overt hostility, and equality. The point that I want to emphasize is this – to the degree a person thinks like an abuser, he or she will abuse. I believe this to be true for you and for me, as well as for the clients with whom we work (and label "abusers"), for whenever you or I behave in a verbally (or physically) abusive manner towards another individual, we share, ay least for an instant, the same cognitive set as the abusive clients with whom we work.
As counseling progresses, attention turns toward increasing the client's awareness of the cognitive set associated with spousal abuse, and to confronting core beliefs and attitudes about personal responsibility, overt hostility during conflict, and control over others.
Responsibility
The first component of the cognitive set is a denial of personal responsibility for one's own imminent actions. Clients believe, if only for an instant, that they are not responsible for what they are about to do to their partner. If you could stop them just before an abusive act and ask them, "Who's to blame for what you are about to do to your partner?" they would answer, "He is!" or "She is!" Thoughts such as, "You're driving me to it," "You're pushing my buttons," and "You asked for it and now you're going to get it!" are characteristic of this part of the abusive set. The belief is, "I'm not responsible for what I'm about to do to you – you are!"
Typical cognitions associated with responsibility:
She's driven me to this!
It's her fault!
She pushed my buttons!
He's gone too far!
She's asking for it and I can't take it anymore!
I warned him, and now he deserves what he gets!
She brought this on herself!
She didn't leave me any other choice!
The clinician should take every opportunity to challenge the cognitive set associated with abusive behavior, starting with the avoidance of responsibility. The challenges made by the therapist, in time, become the basis for "self-talk" that the client will use to avoid the abusive set. "I," the client comes to accept, "am fully responsible for my own words and behaviors. I can't always choose the situation I'm faced with, but I always choose how I react to it. If I react in an abusive manner, I have to take responsibility for it without blaming others."
Comfort with Violence (It's OK)
The second component of the abusive set is the belief that one's impending abusive behavior is OK – it is neither wrong nor abusive. Clients usually accomplish this by minimizing the abusive behavior, or by calling it something else such as self-defense, problem solving, being strong, or standing up for one's rights. In one case, described in the second course, a client established his comfort with extreme levels of abuse towards his ex-girlfriend by calling it an act of fatherly love. In his mind, it was not abuse he was about to engage in, but an act of love for his son, of whom the client wanted custody.
The client, whom we will call Dan, was having a custody battle over his son with his ex-girlfriend, Alicia. Dan figured that the way to solve the problem and stand up for his rights as a father was to kill Alicia's new boyfriend in front of her. She would be frightened into giving up custody. Dan took a gun over to Alicia's apartment and barged in, waiving the gun. He called for Alicia, but to Dan's chagrin, Alicia was not home. The new boyfriend was there, but Dan wanted Alicia to see the killing in person. She would be intimidated by the killing and let Dan have the children. Frustrated, Dan pistol-whipped Alicia's boyfriend and left, disappointed that his plan did not work out. When I interviewed Dan several years after the incident, he told me that he was surprised when he was arrested a few hours after leaving Alicia's home. "After all," he said, "I didn't even shoot anyone! What's the big deal? I didn't even think her boyfriend would call the police over a little thing like that!"
Look into Dan's mind at the time of the incident, and you will see the cognitive set of the abuser come together. Imagine we could film the entire incident from start to finish, and that we could stop the film just before Dan broke through the door. At that moment, who does Dan blame for what he is about to do in Alicia's home? How does he convince himself that what he is about to do is OK? Dan's "set" at the time was as follows:
Dan's Denial of Responsibility: "Alicia's forcing me to do this by being so unreasonable about the children. She's pushing my buttons by taking them away from me. Alicia is bringing this on herself, and she's leaving me no other choice. She has it coming. I can't count on the courts anymore, so I have to take things into my own hands. They've all forced me into this."
Dan's Efforts to Minimize and/or Call the Abuse Something Else: "I'm just being a good father to my kid because he will be better off living with me than with his mother. I'm not a violent guy; hell no, I'm a good father who puts his son first and stands up for his welfare. My actions aren't abusive. This is just an act of love to give my son a better life." (Too bad about the trauma the kids went through when they witnessed Dan's loving act.)
Help clients avoid this component of the set by teaching them to identify and avoid minimizing language, and to avoid the tendency to call abuse something other than what it is. As you recall, examples of minimizing language often associated with spousal abuse include:
Only
Just
Sort of
A little
Maybe
Barely
Kind of
Argument
At most
Clients also label abusive behavior something more acceptable. For example, a client may say, "I am not abusing my wife, I am ..."
having an argument
acting in self-defense
standing up for myself
problem solving
trying to get control of the situation
refusing to be pushed around
helping my "out of control" partner regain self-control
Clients often label abuse "self-defense." Abusive men claim self-defense as often as abusive women do. In my experience, clients who assert that they hit their partner in self-defense are usually calling abuse something else. To clarify the issue, ask them, "What is the main thing a person feels when they act in true self-defense?" The answer, of course, is fear. "Now ask yourself," you continue, "what was the main thing you felt when you got out of The Box?" The client's answer is usually "anger." "If you were feeling anger rather than fear, I don't think you weren't acting in self-defense. I think you were mad about something and wanted to strike back. That's not self-defense."
Power and Control
The third part of the set involves convincing oneself that one has the right to secure power and control over the partner. Most often, it involves a belief that one has a right to make the partner do something against his or her will, or that one has a right to punish the partner for misbehavior.
The counselor must look for every opportunity to challenge the notion that the client ever has the moral or legal right to force or punish his or her partner. The basis for self-talk during conflict becomes, "My partner and I are two equals who voluntarily decided to build a home together. I'm not her (or his) boss, and she (or he) is not my boss. There are no bosses in our relationship."
Counselors see significant changes in the cognitive set of their clients as they proceed through counseling. When a new client enters a counseling group, he or she usually holds the following set of beliefs:
Belief System: New Client
Responsibility: New clients deny personal responsibility for their behavior. They believe their partner (and everyone else) is responsible for their actions. When asked who is responsible for the abuse, they will usually say, "He is!" or "She is!"
Comfort with Violence: New clients believe hostile and abusive behaviors are legitimate problem solving tools and minimize their abusive behaviors. Often, they think they were not abusive at all, and show a high comfort level with such behaviors. When asked whether their behavior was abusive, they will usually reply, "No way!"
Power and Control: New clients see themselves as the boss in their relationship, and want to control and dominate their partner. When asked, "Who is the boss in their relationship?" they usually say, "I am!"
In the intermediate stages of the counseling process, the cognitive set begins to change. Their set begins to look like this:
Belief System: Intermediate Stages
Responsibility: Clients who are starting to make progress accept some personal responsibility for their own behavior, but still believe their partner is at least partly responsible for their behavior. When asked who is responsible for the abuse or their arrest, they will usually say, "We BOTH were!"
Comfort with Violence: Intermediate clients see hostile and abusive behaviors as wrong, but still want to focus on their partners' problem behaviors rather than their own. They still minimize their abusive behaviors, but their minimizing is more subtle and less obvious (Ex: These groups are great, but I think she (or he) should be here too.). Their comfort level with abusive behaviors is lower, and the clients are experimenting with the new skills they are learning. When asked whether their behavior was acceptable, they reply, "No, I admit it was wrong to do that, BUT my partner shouldn't have ..."
Power and Control: Intermediate clients are willing to share some of their power as the boss, but not all. When asked, "Who is the boss in their relationship?" they usually say, "We BOTH are!"
Clients in advanced stages of counseling evidence significant changes in their belief system, as shown below.
Belief System: Seasoned Clients
Responsibility: Seasoned clients accept responsibility for their behavior without blaming others for their own choices. When asked who is responsible for the abuse or their arrest, the reply is, "I am." Quickly recognize blaming comments made by others, and willing to confront less experienced clients on the issue of responsibility.
Comfort with Violence: Seasoned clients see hostile and abusive behaviors as wrong, period. They are willing to focus on their own behaviors and goals, rather than the behavior of their partner. They do not engage in minimizing. Their comfort level with abusive behaviors is very low, and they show a high level of proficiency in the use of the skills they have learned. If asked whether their past behavior was acceptable, they reply "No," in a tone of voice that makes you feel stupid for having asked such a dumb question. They are willing to take a leadership role in the counseling group, and confront minimizing statements by others. Their comments are so "on target" that the counselor often feels useless and unneeded. (Very often, these feelings are accurate.)
Power and Control: Seasoned clients are willing to share power in their relationship, and they see their partner as an equal. If asked, "Who is the boss in their relationship?" they reply, "There are no bosses in my relationship."
To summarize, seasoned clients demonstrate the ability to maintain the following "set" during relational conflict:
Responsibility: "I am totally and solely responsible for everything I ever do and say."

Comfort with Violence (It is NOT OK): Verbal and physical abuse is always wrong. It is irresponsible, hurtful, and never justified.

Power and Control: My partner is my equal in every way. I never have the right to force my will on my partner.
Meaningful change requires that clients avoid the cognitive set associated with partner abuse. Specifically, clients must make changes in the way they think about responsibility, violence, and control issues. Early estimates of client progress are usually determined by his or her ability to stay in The Box, recognize warning signs, and use time-out appropriately. Yet, as important as these strategies are, the abuse and violence will not end unless there are accompanying changes in the cognitive set and the associated core beliefs that make abuse possible.
The Box in Advanced Stages of Counseling
Nevertheless, the early efforts to stay in The Box bear fruit in the later stages of counseling. The client and counselor have addressed issues of responsibility, blame, and minimizing. In addition, the self-monitoring skill developed by watching for warning signs is of particular value to the client during the shift from a behavioral to a cognitive focus in treatment. As the counselor and client address cognitive issues such as the abusive set and core beliefs, the client continues self-monitoring - he or she just looks for different things. Many years ago, a client asked, "Dr. Adams, is it normal for my warning signs to change?" She related how her warning signs changed over the course of counseling, from overt behavioral warning signs (yelling, cursing, throwing things, etc.) to more subtle, cognitive warning signs. "I don't ever yell at my husband or kids anymore," she reported. "Now I notice when I THINK about yelling, and I call a time-out then. Is that normal?" Notice her implied acceptance of responsibility for her actions and her refusal to minimize or re-label verbally abusive behavior (components one and two of the cognitive set). Further, she reports a shift from the monitoring of large, overt behaviors to a monitoring of the more subtle, less overt cognitions associated with the abusive set.
Over the course of counseling, most clients experience a natural and stepwise shift in what they are able to monitor during times of interpersonal tension and conflict. Most clients are able to recognize large, loud, overt behaviors as indicators of imminent abusive conduct. As clients refine self-monitoring skills through experience and practice with behavioral indicators, they acquire a growing capacity to monitor their cognitions, particularly those associated with abusive behavior. In other words, clients learn to self-monitor in the early stages of counseling, and become increasingly skillful and knowledgeable about what to monitor in the latter stages.
For example, Darryl and Paula, two clients of mine, were discussed earlier in this course. Both applied the recognized warning signs, but with varying degrees of skill. Darryl wrote, "About a few days ago we both got into an argument. A perfect time to practice my time-outs. She noticed it first that me and her were going at it at each other. It started to build up (the argument). So right then she tells me, 'I need a time out.' 'Why,' I ask myself, 'didn't I notice it first?'" Paula, who had much more experience with her warning signs, wrote, "My blood is boiling. I feel hot. My hands are perspiring, my voice cracking. I was MAD. Michelle (Paula's daughter) was hostile. I recognized my warning signs. I decided to take a time out until I cooled off." Notice that Darryl failed to notice his warning signs even though he and his partner were out of The Box, or "going at each other." Paula, on the other hand, recognized more subtle warning signs and took a time-out well before she engaged in overt acts of hostility.
Clients continue to become more skillful over time. As clients shift from behavioral to cognitive warning signs, a sharp drop in the frequency of "out of The Box" incidents is experienced, often to the pleasant surprise of both clients and their partners. "My wife looked at me the other day," said a proud client recently, "and she said, 'Wow, have you changed!'"
Chapter 4 - Automatic Thoughts, Core Beliefs, and Self-Talk
As counseling progresses, they delve further into their beliefs and attitudes about responsibility, violence, and control. Clients also explore other relevant beliefs such as interpersonal trust, their expectations of others if they show vulnerability, their ideas about strength, and their ideals regarding manhood. A cognitive-behavioral approach serves this purpose well, but requires that the clinician provide clients with more information about cognitive-behavioral terms and theory. Of course, the approach shown below is not the only way to address these important issues with clients. It may not even be the best of all possible ways. It is, however, a way that has been highly successful in my work with this population over the years.
Dave was a "rocket." Some people are "volcanoes" – their anger builds slowly over time until they explode violently – but Dave was a classic rocket. His anger could soar to explosive and abusive levels in a heartbeat. Right now, he had a puzzled expression on his face. "Dr. Adams," he said, "I understand everything you're saying. You're saying that abuse is caused by the way we think about it responsibility, violence, and control. We abuse when we think like an abuser. That makes sense to me. But sometimes I get mad really fast, before I've had time to think anything at all. Like, my wife says something and 'BOOM!' ... I'm mad. How can I get mad when I don't have time to think anything?"
The other clients in the group looked at me and nodded. They were thinking the same thing as Dave. Sometimes Dave's anger surfaced quickly, so quickly that there was not time for him to think anything at all. His anger and aggressive behavior came so fast that they had the appearance of a knee-jerk reaction, the way Dave's foot might jerk if a doctor tapped his knee with a hammer. Do Dave's thoughts cause anger in situations like these? If the way we think causes anger, how can we get angry before we have time to think?
When Dave asked his question, I thought of Brenda's story. While her case did not involve spousal abuse, her belief system was characteristic of the abusive client. Indeed, Brenda had asked the same question in her group a couple of days earlier. Like Dave, Brenda was a rocket, and she told the following story.
One day, Brenda was leaving a department store when she heard her sister shout an insult to a man walking behind them. Brenda did not see what the altercation was about, but the man must have thought Brenda had insulted him because he grabbed her by the arm. Brenda reacted instantly. Although she was holding her infant daughter, she turned and punched the man in the face. Brenda told us it was self-defense, and I might have believed her if she hadn't stopped "defending herself," handed her baby to her sister, and continued punching the man in the face. When a security guard tried to pull Brenda away, she went after him too. If Brenda were really acting in self-defense, as she claimed, she would have been looking for the security guard for help, rather than beating the crap out of him. Both the guard and the man who grabbed her were in ragged shape by the time the police arrived, and they arrested Brenda. Brenda told us that she did not remember thinking anything at all when the man grabbed her arm. She was enraged instantly, before she had time to think. The person grabbed her by the arm and "BOOM!" ... Brenda was mad. Did Brenda's thoughts play a role in this situation, or was her aggression an unthinking reaction?
To answer this question for clients, I explain the theoretical concepts of core beliefs and automatic thoughts. Core beliefs refer to the basic attitudes, beliefs, and values that we develop over the course of our lives. Most core beliefs are formed early in life, in our childhood and adolescence. They take form over the years, shaped by the experiences we have growing up, the things we are taught by others, and the way we see other people act in certain situations. Later in life, as adults, the core beliefs we develop early in life continue to influence the way we think about ourselves, others, and the world we live in. Am I good or bad? Can I trust people, or will they hurt me if given the chance? Is the world a safe or a threatening place? Is it good to get angry? What types of things should I get angry about? Is it OK to get violent when I'm mad? If I'm slow to get angry and aggressive will my partner take advantage of me? Is violence a good way to solve problems and make my partner do what I want? Clients answer these questions in a manner that is consistent with their core beliefs.
Let us return to Brenda. To understand her emotional and behavioral reaction to the man grabbing her arm, we need to understand her core beliefs. There was a time, as a little girl, when Brenda would not have known how to act when a stranger grabbed her arm. As a young girl she would have wondered, should I be scared and cry and call for help? Should I ask the man what he wants? Should I tell him to let go? Should I run away or fight? She would not have known what to do. She would have had to think about it first. As she grew older, however, Brenda started to build a set of core beliefs or rules to live by. She watched the way others handled certain situations, and listened to the advice of people who seemed to know more than she did. She experimented with different behaviors in a variety of situations to see what worked best for her. She made assumptions about life based on her own experiences, and as the years passed, her core beliefs took shape. Brenda explored her core beliefs in her counseling sessions. Some of her most relevant core beliefs were:
Brenda's Core Beliefs:
The world is a dangerous place, people can't be trusted.
People will take advantage and hurt me if they have the chance.
Anger makes me strong, fear makes me weak. It's better to be angry and strong.
When in doubt about a person's intent, assume the worst and get mad.
People usually leave me alone when they see I'll "go off" on them.
If someone makes me feel threatened and I hurt them, it's self-defense.
It's better to hurt others before they can hurt me.
I should apply these rules widely to almost every situation I get into.
Brenda did not have to think all this when the man grabbed her arm. She had already done her thinking. She did her thinking years ago when she formed her core beliefs, before she ever met the man who now held her by the arm. Now, Brenda's core beliefs told her how she should feel, and what to do. Her thoughts were "automatic thoughts." That is, they were thoughts based on core beliefs formed long ago, rather than on an objective analysis of the current situation. Automatic thoughts come instantly. They can generate instant anger and aggression. In contrast, thoughts based on analysis of a situation (analytic thoughts) take much longer. Analytic thoughts require clients to gather the facts about a situation and draw some conclusions about them, and that takes time. Whenever clients find themselves instantly angry and aggressive, core beliefs and automatic thoughts are at work. The definitions below help clients grasp the concepts and apply them.
Core Beliefs: Core beliefs refer to basic beliefs about self, others, and our future. Core beliefs are the rules we live by, and everyone has them. They begin to evolve in the early years of our lives. They are based on our thoughts about our early experiences - the things we see others do, and the advice others give us while growing up. Because core beliefs are formed early in life, they are often steeped in childlike and adolescent thinking.
Adolescent Thinking: Adolescent thinking refers to the type of thinking that lacks the insight and understanding that comes with greater life experience. For example, adolescent thinking usually ignores consequences, favors immediate gratification over long-term goals, perceives anger as strong, and overvalues aggression as a way to solve problems. When clients make choices based on adolescent thinking, they make decisions based on their personal wants and needs, rather than the greater needs of the family and the community.
Automatic Thoughts: The term refers to thoughts that flow automatically and without effort from one's basic core beliefs. Automatic thoughts come instantly when core beliefs are activated. For example, suppose a person developed a core belief in his childhood that spiders are extremely dangerous. One day, as an adult, the person sees a spider on his arm. Instantly, he feels fear, jumps around, shouts, and tries frantically to brush the spider off. He did not stop to think about what to do. He already did his thinking about situations like this as a child. When he saw the spider, the core belief about spiders was activated. Automatic thoughts told him what to feel (fear), and what to do (jump, yell, and brush it off fast!).
Analytic Thoughts: Analytic thoughts are the opposite of automatic thoughts. Analytic thoughts involve taking time to consider the facts about the current situation, and think about the best way to handle it. Analytic thoughts consider the long-term consequences of choices, for oneself, others, and the relationship.
Core Beliefs Can Cause Problems
Unfortunately, Brenda's core beliefs got her into a lot of trouble. There was a time when her core beliefs, and the automatic thoughts that flowed from them, made sense to her as a young woman on the street. She grew up in a gang-infested neighborhood where violence was commonplace. Her tendency to mistrust and assume the worst of others had some basis in reality. Painful experience taught her that it was foolish to trust easily, and danger was everywhere. Anger and violence are still survival strategies to many young people growing up on those streets. However, the same core beliefs that made sense to Brenda as a teenager got her into serious trouble as an adult. Acting on the core beliefs she developed as a child, Brenda now faced charges of battery, resisting arrest, and worst of all, child endangerment, which meant that her child could be taken from her and placed in a foster home.
That is the potential problem with core beliefs. The beliefs that we developed with juvenile minds and limited life experience continue to guide our feelings and behavior after we become adults. Core beliefs are formed early in life when we are young, before we have the capacity to think and reason like an adult, before we had the ability to consider the long-term consequences of our behavior. Many of our core beliefs about anger and physical aggression developed in adolescence, and beliefs based in adolescent thinking lead to adolescent-like behavior. That's why you often see a grown man acting like a child when he's cut off on the freeway, or a grown woman throw a childish tantrum over some perceived insult. Think like an adolescent, like a kid on the schoolyard, and you will act like one. That is how Brenda got in trouble.
Understanding Your Core Beliefs
If you want to live an abuse-free lifestyle, you have to understand your core beliefs and automatic thoughts. Your core beliefs about anger and violence will change over time as you rethink these issues as an adult. By applying adult reasoning, your beliefs will become less adolescent-like and more mature, and as your beliefs mature so will the automatic thoughts that flow from them. Clients notice this change when they find themselves staying surprisingly calm in situations that they used to get angry and aggressive about. They find it easier to stay in The Box, and to keep anger levels below the "I don't care what I say" line. Their core beliefs are changing, and their automatic thoughts no longer invoke anger, aggression, and abusive behavior as the desired response.
Making meaningful changes in core beliefs take time. Clients start by watching their warning signs. Warning signs tell clients when they are getting out of The Box, but they also indicate that adolescent core beliefs are activated. In other words, clients are starting to think and act like an adolescent. As clients have learned, the presence of warning signs is a signal to call a time-out. Now, during the time-out period, clients begin to ask themselves what they were thinking when they got out of The Box. What adolescent beliefs were active? What core beliefs and automatic thoughts were stimulated by the situation? Now is the time to challenge and change them, while they are fresh and available to clients for inspection. To change your core beliefs, clients need to be aware of them, and the time-out period is a perfect opportunity to educate themselves about their core beliefs. Clients use the opportunity afforded by the time-out period to expose their core beliefs to the light of adult reasoning, something that they were not able to do when they formed them in childhood or the teenage years.
Take Time to Think
Whenever clients feel themselves getting angry (the Tension phase of The Box), it helps to stop and think before they say or do anything. By taking time to think before they react, they minimize the power of core beliefs and automatic thoughts, and increase their chances of staying in The Box. It is also a good idea to put their hands in their pockets until they calm down. (When abusive clients are angry they should always put their hands in their pockets. If they cannot do what they want to do with their hands in their pockets, it is probably a bad idea anyway. Clients must solve relationship problems with their heads, not their hands.)
By taking time to think, clients put automatic thoughts on hold and give analytic thinking a chance to start. For Marcus, a professional athlete who was in counseling several years ago, this was an extremely important concept. Marcus was a defensive back in professional football for many years. One day he made the following observation.
"All my life," said Marcus, "I've been trained NOT to think. All through football in high school, college, and the pro's, I've been told not to think. You do your thinking during practice. But when the game starts, you've got to react without thinking. By the time you stop to think about what's happening, the play's over. The better I could react to a situation on the field and make a hit, the more I could do that without thinking, the better player I was and the more years I had in the pro's. That worked great in football, but it didn't work at home with my family. One day my wife said something and I hit her without thinking. I feel awful and ashamed about it. If I'd just taken a few seconds to think I never would have done it. I have talked to other guys who've played in the pro's and they say they've experienced the same thing. The most important thing I've learned in this class is to STOP AND THINK BEFORE I REACT. It's made a big difference in my life."
The diagram below illustrates what Marcus was saying. Let us say that "S" stands for the situation you are in (something that someone says or does) and "R" represents your reaction to it. Marcus' football goals required that he get "R" (his reaction) as close to "S" (the situation on the field) as close to each other as possible, as shown by Figure 1. His goals for his family were different. He wanted to increase the time between the situation he faced and his reaction to it, as shown in Figure 2.
Figure 1.
(Little time between the situation and your response)

Figure 2.
(More time between the situation and your response)
By giving himself time to think before he reacted, Marcus was actually taking steps to reduce the impact of his automatic thoughts and increase the role of analytic thoughts in his decision-making.
Self-Talk
Self-talk is the principal tool that clients in our counseling groups draw on to stay in The Box. Clients consistently rate self-talk as one of the most important skills they take from their counseling experience. Exit questionnaires indicate that self-talk is used more frequently than any other skill to stay in The Box and maintain violence-free relationships. Self-talk is also the main tool used to challenge core beliefs, and keep tension below the "I don't care what I say" and the "I don't care what I do" lines. Clients rely on self-talk to lower anger levels during time-out periods, give themselves time to think before reacting, and increase analytic thinking when deciding how to react to relational conflict.
Self-talk, as used by our clients, is the act of taking charge of one's thoughts. Rather than allowing automatic thoughts to run through their mind unchecked and unchallenged, they "self-talk" to think sensibly and rationally about the situation they are in, and to thoughtfully consider the best way to react. It is a type of analytic thinking. Self-talk is a skill, like riding a bicycle or hitting a curve ball, which takes time and practice to develop. It is an essential skill for abusive clients. The more effective clients become at self-talk, the more control they report over their behavior and emotional life.
Of course, some clients argue that they cannot help the way they feel or the way they think. This most often occurs early in the counseling process. They point to the selfish, unfair, or provoking behavior of their partners and say they cannot help being angry and aggressive. They believe that their anger and abuse is beyond their control. "If you believe that," I often say, "you're fooling yourself. While it is true that many things influence your feelings, they are never totally beyond your control. As long as you have the power to choose one thought over another thought, you have tremendous control over feelings like anger. In fact, your greatest freedom, a freedom that no one can ever take away from you, is the freedom to choose your thoughts, and hence your attitude, in any situation."
As clients become skillful at self-talk, they develop greater direction over their anger and behavior. Maintaining a cognitive-behavioral approach, I encourage clients to self-talk when tension starts to rise. "Let me remind you," I tell them, "that anger (or other feelings such as jealousy, frustration, and resentment) is caused by what goes on between your ears, not what goes on around you. Stop trying to control what is going on around you, and start controlling what is going on in your own head! When automatic thoughts start to invoke anger, use self-talk to regain your composure, reduce anger to manageable levels, and stay in The Box."
Before going any further, let me clear up some common misconceptions that newer clients have about anger and self-talk. First, it is not the goal of counseling to teach clients how to avoid the feeling of anger. Anger is not a "bad" thing – it is just a feeling. Even unpleasant feelings like sadness and anger add color and richness to our existence, and they are often an important source of information about our relationships. "You will always experience anger," I remind clients, "and that's OK. When you have been unfairly treated, when your partner takes advantage or disrespects you, when people deliberately try to hurt you and the people you love – when these things happen you are going to get angry. There are times when you SHOULD get angry. The goal is not to stuff or avoid anger, but to handle it appropriately - to handle your anger in a way that makes the situation better rather than worse." Self-talk is not a magic incantation that will shield them from anger, but it will help them manage your anger appropriately, and express it non-abusively.
Clients also confuse self-talk with happy thoughts (Gee, isn't it a pretty day?), self-affirmations (every day in every way, I'm better and better), and positive thinking (Gosh it hurts being shot, but at least the bullet missed my other vital organs!), or some other nonsense. Personally, I have nothing against this stuff, but it is not self-talk as applied by our clients. Self-talk is rational, logical, and most of all, honest. Self-talk is only effective if clients BELIEVE the things they say to themselves. In other words, self-talk will not help clients who tell themselves that they are not mad, jealous, or frustrated when they really are. If it's not honest you won't believe it, and if you don't believe it, it won't help. When clients self-talk, they think things like the following:
"I'm angry, but I don't want to make things worse. Yelling and shouting will definitely make things worse. Watch for my warning signs. I'll call a time-out if I see them. Stay in the box and try to solve the problem. I love my partner; keep that in mind. Don't 'awfulize' it (blow an ordinary problem out of proportion and make it more horrible, terrible, and awful than it really is). Just focus on the problem and use the skills I have learned. Remember to stop and think before I react. I am not trying to win a fight, and my partner is not my adversary. I want to solve this problem and get back to the OK zone of The Box. Keep my hands in my pockets and my voice down. Stay calm!"
That is how self-talk works. It will not make the tension disappear, but it will help keep clients you in The Box. "Self-talk," I advise clients, "is your line of defense against verbal or physical abuse. It keeps your anger in check. Although there is nothing inherently wrong with anger, anger should never run the show. Anger, unrestrained by self-talk, can grow into blind rage. At that point, reason stops and anger takes over, and anger only cares about immediate gratification. Anger does not care about consequences or who gets hurt. That is why you should never stop reasoning with yourself (using self-talk) when you are angry. Self-talk keeps anger at manageable levels." The story below is an example of what can happen when reason stops and rage takes over.
Rage Visits the Elderly Gentleman
An elderly man entered our counseling group after spending several years in state prison. As a condition of his parole, he was required to participate in domestic violence counseling. In his first counseling session, the group asked him to tell his story, as is the custom in our program. The man began the story by describing a verbal argument he had with his son, who was about 25-years-old at the time. As the argument grew louder, the son became more and more disrespectful to the father. In turn, the father's words to his son became more cutting.
The father ordered his son to leave the house, but the son only grew more belligerent. Soon, the father and the son were swearing and physically threatening each other. Enraged by his son's behavior, the father went to his bedroom and got a handgun. Storming back to confront his son, the father brandished the pistol and ordered his son out of the home. He threatened to shoot the boy if he did not get out. Rather than leave, the son took a step towards his father - and the father shot him in the heart. The paramedics arrived a short time later, but his son was dead when they arrived.
The old man wept openly as he told his story, and the other men in the group were silent. He stopped to compose himself, and then continued. He said that his life would never be the same, and he often wished that it would end. He wished that he were dead. A day never went by, he said, that he did not remember his son, and he felt only contempt for himself. Many years had passed since the murder, but even now, he could scarcely believe that he had taken the life of his only son. He relived the nightmare every day of his life. He wept again, haunted by the memory of that night. After a long pause, he spoke again. When his wife looks at him, he sees in her eyes only loathing for him - the murderer – the man who shot her boy. She lives with him, yes, but the marriage is over. He used to attend church regularly, but not now. He cannot look the priest in the eye. The son was married at the time of his death, and the boy's young wife was pregnant. The man had never had more than a passing glimpse of his grandson. The daughter-in-law has not spoken to the old man since the shooting, and she does not allow the grandson to visit him. After all, he will always be the man who killed the young boy's father. The elderly man sobbed and asked, "What kind of man am I? What kind of man can kill his own son?" The men in the group looked away.
This story is true. It is sad, but it is not unique. Similar things happen every day. How does a man kill his own son? It happened because reason stopped and blind rage took over. It started with the father's core beliefs and automatic thoughts. He came from a very traditional country where the father held absolute authority. His father and his grandfather were very strict. His core belief was that a real man demands unquestioning respect and obedience from his wife and children. When the son fought with him and disobeyed his order to leave the house, his core belief was activated and automatic thoughts relentlessly followed. He would not be a man, he told himself, if he allowed his son to disrespect him in his own home. His son did not respect him as a man. He had to stop his son or lose his self-respect! The man had these thoughts throughout the fight. Anger swelled past the "I don't care what I say line," beyond the "I don't care what I do line," and continued to grow. Riding a wave of anger, he did not think about the possible consequences of his behavior. He was so full of blind rage that he was past rational thinking when he pulled the trigger. The sound of the gunshot, he said, brought his reason back. He said he came to his senses then, and to the awful realization of what he had done. His son was dead.
When anger becomes so strong that clients act without the constraint of reason, they enter very dangerous territory. "How different would this story would be," I ask clients, "if the man had used self-talk to manage his anger?" What if he had stopped on the way to the bedroom and said to himself:
"Stop and think! What am I about to do? My son has spoken disrespectfully to me, but he hasn't done anything bad enough to die for! My son is young and, in some ways, very immature. I need to be patient with him. He is a good son. Someday he will be embarrassed by the way he is acting here tonight. And what might happen if I threaten him with a gun? Remember, he is my son and I love him. I won't be less of a man because he says things that are disrespectful. I only become less of a man by disrespecting others or myself. My manhood does not depend upon what other people say or do, but upon what I do. Consider the consequences of my actions. Self-respect comes from self-control and making wise decisions, not from harming those who do not treat me the way I like to be treated. Self-respect can never come from threatening my son's life."
If he had used self-talk like this, his life and the lives of his family would have been very different. He could have stopped to think, but he did not. When he stopped reasoning with himself, he allowed anger, rage, and adolescent thinking to take over. He never dreamed that he was capable of doing such a thing, but he was wrong. There is a lesson here for all of us, a lesson that his son will never get a chance to learn. "Self-control," clients are told, "comes from our dogged determination to keep reasoning with ourselves. Never stop using self-talk when you're angry."
Clients use a three-column technique to develop your self-talk skills and gain insight into their core beliefs. To start the assignment, have clients take a piece of paper and write situation, automatic thoughts, and self-talk in three columns, as in the example below.
| | | |
| --- | --- | --- |
| SITUATION | Automatic Thoughts | SELF-TALK |
| | | |
| | | |
Every day for a week or more, their job is to find situations in which they feel anger or some variation of tension (frustration, irritation, jealousy, etc.) towards their partner. By the end of the week, they should have at least seven situations on the list. Clients do not have to feel intense anger in these situations, but they must find one or more situations per day in which they feel some anger or tension.
Whenever they feel angry, they describe the situation they were in, the automatic thoughts that were behind the anger, and the self-talk they used to reduce their anger. This exercise may be difficult at first, but it gets easier with practice. Describing the situation will be easy. It may be harder to identify the thoughts behind their anger, and the counselor may have to help clients identify them. The recorded automatic thoughts are the key to understanding the core beliefs that drive them. Recording self-talk is also important. It is important for clients to experience the manner in which their self-talk reduces their anger and promotes analytic thought. I have included homework assignments from my clients as examples. The first example is from Elliot. Notice how he describes the situation, his automatic thoughts, and the self-talk that was effective in reducing his anger.
| | | |
| --- | --- | --- |
| SITUATION | Automatic Thoughts | SELF-TALK |
| Another driver cut me off on the freeway, causing me to slam on my brakes. | He did that deliberately! He doesn't care if he kills me! He's taking advantage of me! I'm not going to let that jerk get away with that! I'll teach him! | Calm down. This isn't a big deal. It wasn't personal, so don't take it personally. He just didn't see me. Everyone makes mistakes. I've done things like that before. No one was hurt, so let it go. |
Here is an excerpt from Rebecca's homework. Rebecca and her boyfriend had a high comfort level with verbal abuse before she started counseling, and she was trying to change that. She was willing to take a leadership role in stopping the verbal abuse (lead by example). Rebecca was proud of the way she handled this incident. Because of her determination to apply the concepts she had learned, she and her boyfriend were able to solve the problem rather than just fight about it. First, Rebecca did a good job of recognizing her warning signs and using self-talk. Although self-talk did not eliminate the anger she felt (it rarely does), it did reduce her anger below the "I don't care what I say line" and kept her in The Box. Second, by lowering her anger, Rebecca was able to stay focused on problem solving, which is the only path back to the OK Zone. Third, she did a good job of getting out of the "YOU" mode. (A person is in the YOU mode when they point their finger at their partner, jab their finger in their partner's face, and start every sentence with YOU ... YOU ... YOU!) Rebecca knew that her relational problems could not be solved in the YOU mode.
| | | |
| --- | --- | --- |
| SITUATION | Automatic Thoughts | SELF-TALK |
| We didn't have enough money to pay the rent, and my boyfriend was blaming me for our financial problems. I got mad and saw my warning signs. | This isn't fair! Who the hell are you to criticize me? You're the one who can't get a decent job! You're nothing but an asshole! You don't appreciate anything I do. You're asking for it! You're pushing my buttons! This whole thing is your fault! | I see my warning signs – I'm "in his face." I'm starting to yell, and I want to hit him. Calm down. In group they say the best way to deal with criticism is to find something in the criticism to agree with. Is there some truth to what he's saying? I'm not the only one to blame, but I'm partly to blame for this problem and I'll take responsibility for that. I don't want to win a fight. I want to solve this problem. He's scared because we're in trouble and he doesn't know what to do. I'm scared too. I'll tell him how I fell, but don't yell or say hurtful stuff. What can I do to show leadership – to help solve the problem? |
Elliot and Rebecca's homework assignments also gave them insight into their core beliefs about anger and aggression. When he looked over his homework assignment, Elliot discovered that his core beliefs were - "When something bad happens it's deliberate and directed at me personally. People are always trying to take advantage of me. I have to get angry and aggressive to stop people from walking all over me." These core beliefs were not very realistic, and they got him into a lot of trouble over his lifetime.
Elliot worked to modify his core beliefs and make them more realistic - "When something bad happens, it doesn't always mean that someone did it deliberately or that it was directed at me personally. Sometimes it is just an accident, and it doesn't always mean that someone is trying to take advantage of me. Not everyone is a threat to me, or trying to take advantage of me, and I don't have to get angry and aggressive every time something goes wrong."
Rebecca identified her core beliefs as – "It's awful and terrible when someone criticizes me. No one should ever criticize me! When they do, I have to get angry and aggressive and blame them back. Accepting criticism is a sign of weakness, and people will take advantage of it. If they push my buttons, I should hurt them to teach them a lesson and make them leave me alone."
Like Elliot, she worked to make her core beliefs less adolescent-like and more realistic – "It's uncomfortable to be criticized, but it's not awful. There is usually some truth behind criticism. Accepting criticism is not a sign of weakness. If handled the right way it can be an opportunity to show leadership, grow as a person, and solve a problem that threatens my relationship. A strong person can even invite constructive criticism. I do not have to get angry and abusive, and hurting my boyfriend only makes things worse. If I set an example by accepting criticism, my boyfriend will be more likely to do the same."
Learning the skill of self-talk, identifying core beliefs associated with anger and aggression, and modifying your beliefs to make them more realistic are important steps in maintaining an abuse-free lifestyle. When people identify adolescent core beliefs and modify them in a way that makes them more realistic, they experience significant changes in their feelings and behavior. Most importantly, significant progress is made toward the vital goal of stopping abusive behavior.
Expanding the Treatment Plan
Once clients demonstrate mastery of the basic cognitive and behavioral skills presented in this course, the therapist can add complementary skills and concepts to the treatment plan to enhance the client's ability to stay in The Box (avoid verbal and physical abuse). Changing unspoken relational rules regarding overt expressions of hostility, refining cognitive strategies that promote affective regulation, keeping sight of "The Big Picture," restructuring fundamental concepts about manhood, and appreciating the difference between fear and respect have demonstrated their efficacy with our clients. The second spousal abuse course, available on this website, presents these and other strategies in detail.
Closing Thoughts
Over the years, I have had the opportunity to teach counseling strategies for spousal abuse to many professionals at conferences and seminars. I enjoy these opportunities. However, I get the impression that most of my colleagues would do a lot to avoid working with abusive clients themselves. "Sounds like you're doing a fine job," they seem to say. "Keep it up and good luck!" Many participants report that, while they enjoyed the seminar, they doubt that they will be able to use the strategies they learned; after all, their clients have nothing in common with the men and women that I portrayed in the seminar. Others seem surprised (and unconvinced) that abusive spouses can possibly become non-abusive spouses.
You may have feelings similar to my colleagues. If so, there are two points that I should stress. First, the assumption that our clients maintain abuse-free lifestyles is, in my opinion, a dangerous one. Given the incidence rates for spousal assault (Straus & Gelles, 1990; Rennison & Welchans, 2000; Tjaden & Thoennes, 2000), it is probable that the clientele of most counselors includes people who abuse, are abused, or both. Maybe they have not told us about it; maybe we have not bothered to ask. Either way, it is difficult to believe that the incidence rates reported in the average American household do not apply to the men and women who seek us out for counseling. Straus (1990) found that about 10% of the men and women in his survey reported some victimization by their partner in a 12-month period. Approximately 3% of the respondents suffered severe spousal abuse, such as punching with a fist, kicking, biting, and beatings. Either our clients are somehow able to avoid the abuse that other Americans experience, or there is a lot of hitting going on among our clients. Do we even know about it?
Secondly, many clinicians question the possibility of meaningful change among abusive clients. Certainly, not all clients make the same amount of progress, but when men and women do make meaningful changes, the changes profoundly affect their lives, the lives of their partners, and the lives of their children. Indeed, the positive and meaningful change made by abusive clients is often profound. There is no area of my professional life that brings more satisfaction than my work with these clients. Carlos comes to mind. Carlos battered his spouse on more than one occasion, and he came to counseling following his criminal conviction for domestic violence. He was a hard man who had lived a hard life. With little formal education, he wrestled with cultural differences and struggled with many of the skills and concepts discussed in his group. Carlos persevered. Several weeks after his successful completion of our counseling program, I received the following carefully typed letter from Carlos.
"Dr. William E. Adams.
Thanks very much to you and to your professional team that works very hard to help our society change our thoughts and behavior, thoughts and attitudes, thoughts and anger, and to take responsibility and not minimizing, denying or blaming.
I really appreciate the tools that you share with me to make my life easy, happy, and phenomenal.
Thanks to these tools it make me feel that I am important in this society and it make me feel that I am not miserable.
People like you our society needs to make better way to live.
From the very deep of my heart thank you very, very much."
Many of my once-abusive clients are more learned, but few are more eloquent than Carlos.
Contacting Dr. William E. Adams:
I am happy to respond to questions or comments about the treatment strategies presented in this course. You may contact me here. You may purchase my treatment manual by clicking on The Choices Program: How to Stop Hurting the People Who Love You.
References and Suggested Reading
Adams, W. E. (2003). The Choices Program: How to Stop Hurting the People Who Love You. Treatment manual of the American Family Alliance Domestic Violence Counseling Program, 1945 Palo Verde Avenue, Suite 204, Long Beach, CA 90815. (562) 799-1226.
Buzawa, E. S., & Buzawa, C. G. (2003). Domestic violence: The criminal justice response (3rd ed.). Thousand Oaks: Sage. An excellent review of important historical markers, legislative responses to spousal abuse, and landmark judicial decisions such as those discussed in the introduction to this course.
Earle, A. M. (1896). Curious punishments of bygone days. Port Townsend, WA: Loompanics Unlimited.
Rennison, C. M., & Welchans, S. (2000). Intimate partner violence (Publication No. NCJ178247). Washington, DC: Bureau of Justice Statistics.
Straus, M. A. (1990). The National Family Violence Surveys. In M.A. Straus and R. J. Gelles (Eds.). Physical violence in American Families: Risk factors and adaptations to violence in 8,145 families. New Brunswick, NJ: Transaction.
Straus, M. A. & Gelles, R. J. (1990). How violent are American families: Estimates from the National Family Violence Resurvey and other studies. In M. Straus & R. Gelles (Eds.), Physical violence in American families: Risk Factors and adaptations in 8,145 families. New Brunswick, NJ: Transaction
Tjaden, P., & Thoennes, N. (2000). Extent, nature, and consequences of violence against women: Findings from the National Violence Against Women Survey. Washington, DC: National Institute of Justice.